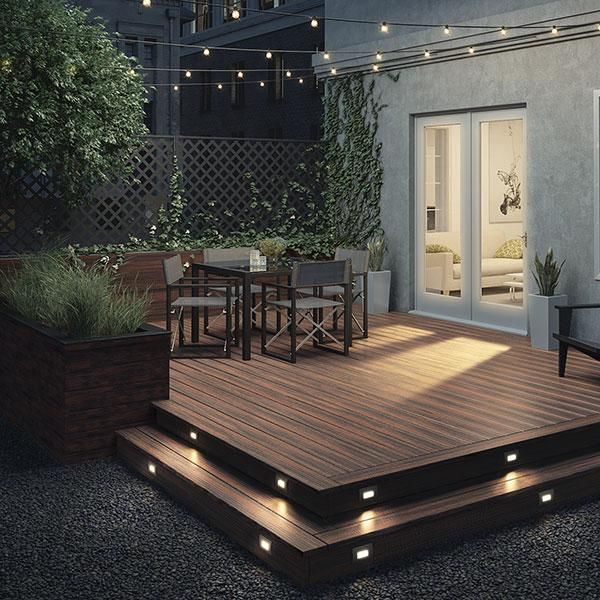 When it comes to designing outdoor living spaces, there are a lot of choices to consider. It is important to know the difference between these so that you can decide which one is the right fit for you. 
What Is a Patio?
A patio is an outdoor living space adjacent to the residential property and is typically used for dining or recreation. It can be either covered or uncovered, and is usually paved with stone, concrete, or brick. It can be a roofless inner courtyard within a building or can be attached to the property, or it can be freestanding.
Larger homes sometimes feature patios with an outside kitchen or a barbeque area, enabling the homeowners to host informal gatherings. They are often adorned with plants, outdoor lights, and even statement features like fountains.
Patio vs Balcony
A patio is a paved outdoor area that adjoins a house, and is a popular spot for entertaining guests or simply relaxing. A balcony, on the other hand, is a platform or projection that extends from one side of the property. Balconies are often enclosed and are usually only accessible from inside the house.
Also, patios are typically larger and can be used for a variety of activities, while balconies are usually smaller and are more often used for simply admiring the view.
Both patios and balconies are common in double-storey houses.
What Is Veranda?
Veranda (also the Portuguese word for 'lengthy balcony') is a type of roofed porch or patio that is often enclosed by a railing and can either be found on the front or back of a house. In some cases, a veranda may also be called a porch, balcony, or deck. However, there are some subtle differences between these.
Listed below are some of the most common types of veranda.
Flat roof

Curved roof

Gazebo

Sunroof

Gable roof
Difference Between Veranda and Porch
A porch and a veranda are similar in many ways, which is why people frequently use them interchangeably.
However, they are fundamentally different from one another. A veranda is an enclosed space with a roof attached to the house and extends to the ground. On the other hand, the porch is attached to the front side of the property. 
In addition, a fence or railing typically encloses a veranda, whereas a porch can either be open or enclosed.
Difference Between Veranda and Balcony
Both of these structures sound similar, but there is a difference between the veranda and the balcony. As mentioned earlier, a veranda is a covered area that is fastened to two or more sides of the primary structure. A balcony, on the other hand, is a raised platform attached to a specific room on an upper storey of the property.
What Is a Deck?
A deck is commonly referred to as an elevated outdoor structure that can be joined or detached to the main building. The majority of houses in Pakistan don't have decks, but those that do are typically found in the country's northern regions.
These platforms without roofs are typically constructed from processed or composite lumber. Natural wood is often not used to build decks since it is prone to splintering, warping, and swelling in harsh weather.
Difference Between Deck and Patio
Both decks and patios can provide ample space for outdoor entertainment. However, there are some key differences to consider when deciding which option is right for your home.
A deck is typically made of wood or composite material and is elevated off the ground, whereas a patio is generally made of concrete, stone, or pavers and is installed directly on the ground.
Moreover, decks are usually more expensive to build than patios. This is due to the materials used and the fact that decks need to be built on top of a support structure.
What Is a Balcony?
Balconies are small outdoor areas that protrude from the walls of a house or apartment. Grills or concrete parapets are typically used to enclose these. A structure can also have a balcony on each storey. You can decorate your small balcony to add cosy vibes to your residence.
Following are some of the most common types of balconies:

Faux balcony

False balcony

Mezzanine balcony
Difference Between Balcony and Deck
There are many similarities between balconies and decks, but there are also a few notable differences. Both are outdoor areas that can be attached to a structure and both are also typically made of wood or composite materials.
The main difference between the two is that a balcony is enclosed, while a deck is not. A balcony typically has railings and a roof, while a deck does not. This means that a balcony can be used year-round, even in bad weather, while a deck cannot.
Another difference is that balconies are typically much smaller than decks. The former might have enough space for a few chairs and a small table, while the latter can often accommodate a large table with several chairs.
What Is a Porch?
A porch is a structure attached to the exterior of a property that provides a sheltered area for people to enter and exit. They are often covered and can be enclosed or screened to protect parked vehicles against harsh weather conditions.
Porches come in all shapes and sizes, and they can be made from a variety of materials, such as wood, stone, or concrete.
Following are some of the most common types of porches:
Open porch

Front entry porch

Back porch

Screened porch
Difference Between Porch and Deck
A standard porch and deck may share some structural similarities with a porch or veranda. However, they are distinct in terms of their location and purpose.
The fundamental difference between a deck and a porch is that the latter is typically exposed to the sky while the former is at least partially covered. Porches are also constructed as an addition to the entrance and are, hence, located on the front side of the property. Decks, meanwhile, are typically built at the rear of the property and are used as outdoor living spaces.
Conclusion
Although a patio, balcony, deck, porch, and veranda are all outdoor spaces, there is a difference between them. We can see that there is a difference Between a Porch, Patio, and Deck. If you are planning on adding any one of these features to your place, be sure to do your research first.
Originally posted 2022-10-28 23:57:47.