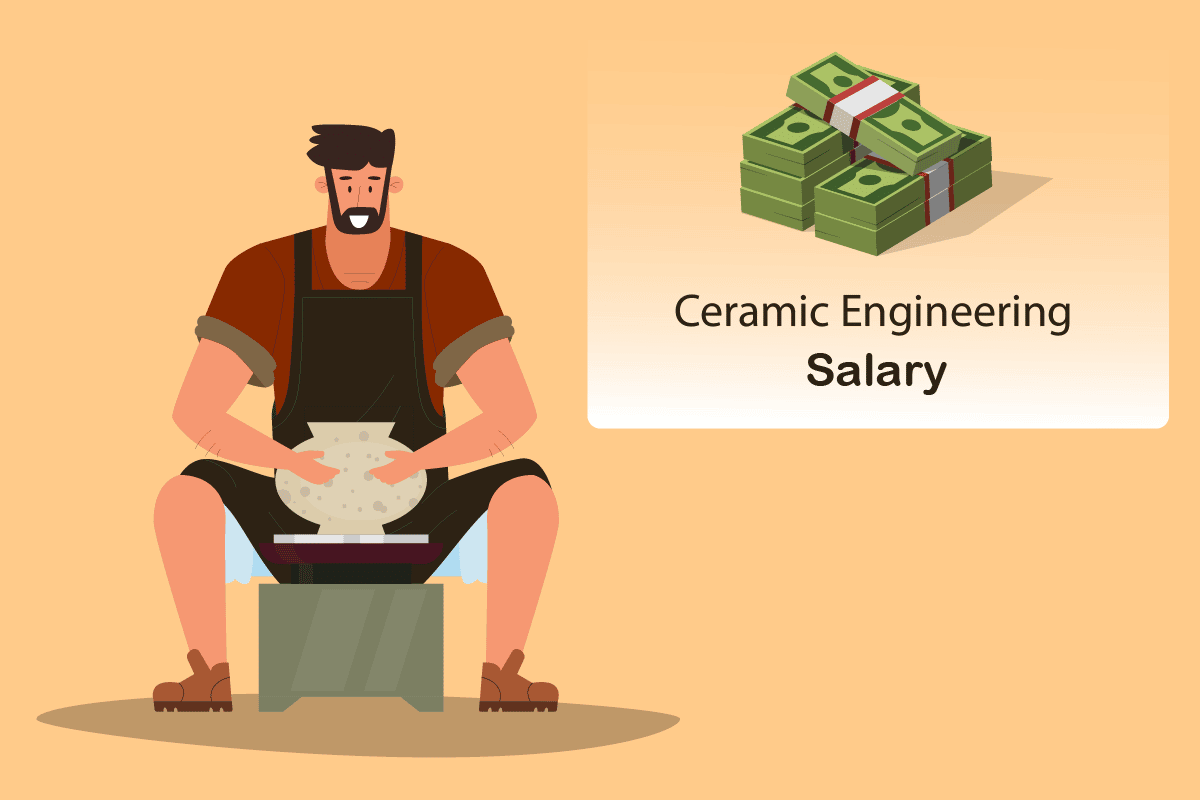 The electronics and biotechnology industries are continuously in demand of ceramic engineers. This is the reason why there is a sharp increase in ceramic engineers in India. It is an interesting time to be a part of this field. If you are curious about this field then you are in the right place. In this article, we will discuss ceramic engineering scope in India and ceramic engineering salary in India.
Ceramic Engineering Salary in India
Typically, when you hear the word 'Ceramic' a picture of pottery comes to mind. Ceramic engineering is the art and science of making things out of inorganic, non-metallic materials. By using heat or precipitation processes at lower temperatures, ceramic engineering is a method for producing non-metallic and inorganic materials with crystalline structures.
Gas burner nozzles, the Space Shuttle program, ballistic protection, bio-medical implants, uranium oxide pellets for nuclear fuel, jet engine turbine blades, and missile nose cones are all made of ceramic. There are many opportunities in both the public and private sectors. Having the right degree and interest in the field can help build a successful career in ever growing ceramic engineering industry. Let us now understand the work of a ceramic engineer.
Who is a Ceramic Engineer?
Engineers with a specialty in ceramics or inorganic materials, such as glass, brick, or cement, that are treated at high temperatures are known as ceramic engineers. Both new ceramic products and processing techniques are created by them. The majority of ceramic engineers work in the glass, clay, or stone sectors.
By employing heat or by decreasing temperatures through precipitation processes from very pure chemical solutions, ceramic engineering deals with the production of things from inorganic and non-metallic materials. Ceramic materials are beneficial because they can withstand heat and are used in a variety of sectors, including mining, aircraft, reprocessing, and medicine. Ceramic engineers create items that aid in the operation of computers and other electrical equipment, enhance human health in many ways, and facilitate international communication.
While others operate in ceramic-using industries including the aerospace, iron, steel, and chemical sectors. For the government or academic institutions, some engineers teach and do research. This has given more opportunities to engineers and also has increased the ceramic engineering salary in India. Some of the industries in which ceramic engineers are needed are:
Construction
Medicine
Electronics
Transportation
Aircrafts
Aerospace
Optical fibers
Military
Scope of Ceramic Engineering in India
A ceramic engineer is a materials expert who specializes in the use of ceramics in the creation of goods like fiber optic cable and heat-resistant tiles for spacecraft. Here are a few of the notable points in ceramic engineering scope in India:
Conducts Research: Ceramic engineers carry out research, create equipment and machines, create processing methods, and evaluate the materials' heat resistance. They also investigate various techniques for decorating, shaping, and burning clay and ceramic materials.
Develop Procedures For Non-Metallic Materials: Engineers that specialize in ceramics create processes for turning non-metallic, inorganic materials into a variety of ceramic goods, including fiber optic products, glassware, coatings for spacecraft, nuclear fuel components, pollution control systems, etc. They work on research, developing products, and engineering the manufacture of ceramic goods that meet the necessary quality standards.
Test Analysis: These engineers analyze test findings to identify the best materials and product combinations for strength and to enhance existing materials.
Innovate Computer-Related Systems: They support the development of ultra-fast computer systems that use glass optical fibers, lasers, and ceramic superconductors.
Aircraft System Development: Materials that surround and sustain aircraft engines operating at high temperatures are developed with the aid of ceramic engineers.
Build Human-Friendly Space Shuttles: These experts create cutting-edge heat tiles for space shuttles and hypersonic spacecraft.
Develop Medical Prosthetics: To replace human bodily parts, they can make ceramic joints, teeth, and bones.
Enhance Infrastructure: In addition, these engineers find creative methods to improve infrastructure like creating roads and bridges using ceramics.
Ceramic Engineering Jobs and Recruiters
Jobs for ceramic engineers are available in reputable companies both in India and overseas. After completing their program, students can look for work options in the public sector, including numerous government agencies, hospitals, and research facilities. Professionals in this field might also choose to work as teachers at colleges and universities. The ceramic engineering salary in India is good both in the private sector and in the public sector.
Common Job Profiles
Ceramic engineering contains various types of jobs. Some of them are mentioned below.
Ceramic designer
Ceramic technologist
Ceramic technicians
Production workers
Researcher
Professors
Construction manager
Marketing Executive
Top Recruiters
Here are some top recruiters that hire people from this field.
Public sector banks, factories, and plants
Bhabha Atomic Research Centre
Institute for Plasma Research
Indian Space Research Organization
Defense Metallurgical Research Laboratory
Skills required in Ceramic Engineering
Ceramic engineers should have a solid grasp of the procedures and guidelines for dealing with a variety of ceramic materials. This will help in acquiring a job with a high ceramic engineering salary in India. The following are the main abilities needed to enroll in a ceramic engineering program:
Manage People And Time: Manage your time wisely, both for yourself and for others. Encourage, develop, and mentor others. Find the best candidates for the position.
Skills In Science And Mathematics: Solving difficulties using scientific principles, mathematical formulae, or both.
Learning Strategies And Tactics: When teaching or learning new topics, choosing and utilizing instructional and training methods and approaches appropriate for the occasion.
Communication Skills: Reading and understanding work-related content, understanding verbal and written communication, and actively listening to others.
Problem-Solving And Reasoning: Decide on a novel, uncommon, or inventive approach to solving complicated challenges, study relevant information, create and evaluate possibilities, and put those answers into practice.
Resource Control: Acquiring and assuring the proper use of the tools, resources, and facilities needed to complete a certain task.
Quality Assurance Research: Evaluating items and processes through tests and inspections to determine their performance.
How to become a Ceramic Engineer?
A degree in ceramic engineering is required for those who want to work as ceramic engineers. In ceramic engineering, you can pursue a bachelor's or master's degree. You can pursue a B.Tech in Ceramic Engineering if you pass the higher secondary board exam with Science (Mathematics, Physics, and Chemistry).
If you pass any national, state-level, or other specialized college entrance test, you may also get admitted to elite institutions. If you're interested in continuing your education after graduation, you can enroll in Ceramic engineering PG courses. Following post-graduation, you have the choice of a Ph.D. or M.Phil. Candidates can apply through GATE for admission to PG programs.
After the 12th grade science, these can be done as courses for higher education:
Diploma Programs: The course lasts three years.
Bachelor of Technology (B.Tech): A four-year full-time program.
Integrated dual degree program (B.Tech-M.Tech): It takes five years to complete.
Master of Technology (M.Tech): The degree takes two years to complete.
Top National Universities for Ceramic Engineering
There are many universities in India that offer UG and PG courses in Ceramic Engineering. Given below are some of these universities.
Top Abroad Universities for Ceramic Engineering
If you plan properly and can afford it then there are many wonderful universities abroad that offer a variety of Ceramic Engineering courses. This field is more prevalent abroad than in India which means that you will find more options and specific courses easily. Some of the best foreign universities for Ceramic Engineering are given below.
Ceramic Engineering Highest Package
There are limited employment openings in the core sector due to the newness of this discipline of engineering, but there is potential in R&D. packages of ceramic engineering salary in India can be quite attractive for individuals who have finished their studies at a reputable institution like an IIT or an NIT. Salaries in this industry vary based on the job description.
1. Polymer Chemists
It involves studying big, complicated compounds and figuring out how monomers interact to make polymers
Average salary: 2.19 lakhs
2. Ceramic Artist
It is focused on designing and creating homeware (tile/flooring) sculptures, ceramic objects, cookware, and tableware using porcelain, clay, stoneware, and bone china.
Average salary: 6.50 lakhs
3. Ceramics Specialist
Working on projects relating to ceramic materials research and technology. They specialize in the creation of new goods or the testing of raw materials and work in R&D, quality control, and manufacturing.
Average salary: 3.5 lakhs
4. Ceramic Research
The development of viable ceramic compositions, working with engineers to create sintered components, and other means of advancing research programs.
Average salary: 4.5 lakhs
The average annual pay for a ceramic engineer in India is 3.8 lakhs, with salaries ranging from 0.3 lakhs as the lowest to 9.6 lakhs highest possible in a year. The ceramic engineering highest package highly depends on your experience and the industry you are working in.
As a fresher employee in India, you might anticipate receiving a salary of Rs. 25000 plus bonuses. Your pay is based on the position you have within the company. With any significant public or private organization, your compensation might climb several times as a speaker or consultant in the field. One can easily take advantage of the growing ceramic engineering scope in India,
Some salary examples in companies hiring ceramic engineers are:
| | |
| --- | --- |
| Company Name | Average Annual Salary |
| Hindustan Sanitaryware And Industries | 3.9 Lakh |
| RAK Ceramics | 2.4 Lakh |
| Orient Bell | 4.7 Lakh |
| Kohler | 7.2 Lakh |
| Hindware | 4.1 Lakh |
| Weinerberger | 4.3 Lakh |
| Simpolo Vitrified | 6.1 Lakh |
Ceramic engineering may sound new to you, but it is a field that has been in the world of manufacturing and research for a long time. In the last few years, the ceramic industry has flourished in the field of tile making and has spread into sectors like medicine, aircraft building, aerospace, infrastructure, construction, etc. We hope you enjoyed learning about ceramic engineering salary in India and ceramic engineering scope in India. Seeing the demand, it is likely that we will see more students gravitating towards this field in the future.
The content on this site is for informational and educational purposes only and should not be construed as professional financial advice. Should you need such advice, consult a licensed financial or tax advisor. References to products, offers, and rates from third party sites often change. While we do our best to keep these updated, numbers stated on our site may differ from actual numbers. See our Privacy Policy & Disclaimer for more details.
Originally posted 2022-11-05 20:26:26.