As a freelancer on Fiverr, it's important to market and promote your services so as to make it easier for potential buyers to discover them. The more right eyeballs on your gigs, the more chances that you will get orders. The more exposure you have, the better it is for your business.
If you really want to make extra income on Fiverr, then you will have to drive traffic to your gigs and offer services that buyers are searching for. To do this, you will have to know different places where you can promote your gig and be creative enough in promoting them.
In this blog, I discuss a few different ways on how to promote Fiverr gigs that have proven to be effective for most Fiverr freelancers when they were just getting started.
How to Promote Fiverr Gigs Online
There are several ways to promote your Fiverr gigs, including:
Optimizing for Fiverr SEO
Optimizing for Conversion
Promoting Gigs on Social Media
Promoting Gigs on Quora
Leveraging Blogging
Leveraging YouTube
Let's now discuss how you can use the strategies and places above to promote your gigs on Fiverr.
5 Ways to Promote Fiverr Gigs through Account Optimization
Promotion is key to any form of business. So, if you want to make money on Fiverr, you need to start marketing yourself. But, where should you start first?
Before going ahead to send traffic to your gig pages from external sources, you need to ensure that your profile is fully optimized for conversion.
1) Complete Your Fiverr Profile
Before you start promoting your Fiverr gigs, make sure that you have completed all the details in your profile. These include:
Your personal information: Choose a good username for your account, set your bio tagline, connect relevant social accounts, and upload a professional profile picture.
Profile description: Buyers read your profile description, so you want to make it engaging, relevant, and inviting.
Education and Skills: Fiverr also has a section where you can add your educational background and set the skills that are relevant to the services that you're providing on the platform.
Add your portfolio: This section can help you establish a level of trust with your prospects on Fiverr. Use this section to show your best work, especially if your service is visual (web design, graphic design, logo design, etc.) An effective portfolio leverages diversity to tell a story of quality, dedication, care, and professionalism.
Add past clients: Your profile now includes Among my clients' section, where you can upload logos of the past brands that you've worked with. Popular names in the industry where you operate may sometimes be all you need to nudge the edging clients over to committing.
Fiverr is always adding new features and tweaking the profile layout, so you need to be checking to ensure that you've filled in all the relevant sections.
2) Optimize your gigs for SEO and Conversion
The best way to do this is by making sure that each of your gigs has an optimized title, description, and tags.
To start optimizing your gigs, head over to the Edit Gig page and click on the edit pencil icon next to the title and modify the various sections of your gig accordingly.
Here are some things you should consider when writing titles and descriptions:
Use relevant keywords specific in both the title and the gig description: Using relevant keywords in your gig body increases the chances of it showing up when people query Fiverr using those search phrases.
Write descriptive headlines that tell people what they'll get when they purchase your gig: If someone is looking for an article writer, then make sure your title reads "I will write an article about your topic" instead of just "I am an article writer".
When writing these headlines, try using long-tail keywords to help you show up easily for more specific queries. Compare these two gig titles for instance,
I will be your article writer
I will write a Personal Finance article for your blog
While the first one is short, sweet, and all, it's targetting anyone looking for an article writer, making it more competitive and difficult to rank. The second option, however, is only targetting buyers who are interested in Personal Finance writers. When these prospects land on your gig, they are more likely to place the order than anyone who was just searching for general article writers.
Use Eye-catching Gig Cover Images: Your cover image should basically show what your gig offers or what it's about so that it catches people's attention and makes them want to click on it and learn more about it.
3) Optimize Gigs for Conversion
Making sure that your descriptions are optimized for conversion is critical if you want to get orders on Fiverr. Here are two things you need to do:
Write persuasively: Remember that real humans read your Fiverr descriptions, so making sure that it's engaging and free of fluff is critical. On Fiverr, your gig description is your sales copy, and given that you only have 1200 characters, you got to make every word count. Demonstrate why your offering is better. You want a prospect to read your description and be convinced that yours is the right service to buy over the hundreds of others adjacent to it.
Format for readability: Fiverr does give you a few different formatting tools that you can leverage to make your descriptions more readable and scannable. I recommend using bullet points and short paragraphs so that it's easy for people to scan through what you offer quickly. You can use the yellow highlighter to stress important keywords. and decide if they want to buy from you or not.
Avoid Misunderstandings: Clearly list your deliverables for each package so that the prospects know exactly what to expect. This way you minimize cancellations that tend to have a real impact on the distribution of your gig.
4) Reassess your Package pricing
If you're having a hard time getting sales on your gigs, then chances are you are charging too high. Doing so, especially on Fiverr when you don't have raving reviews can make it hard to get orders.
Try pricing low at first, and then increase your prices gradually as your gig gains traction and positive reception.
5) Leverage other Fiverr Gig sections and features to boost sales
Fiverr offers other important features for your gig listing page that can help you increase conversions, and many of us are not fully utilizing them
For instance, here are just but 2 of these features:
Video: Instead of just setting a gig image and moving on to promotion, you could whip together a 30-second intro video and increase the engagement on your gig by a whopping 40%. By using a cover video on your gig, you enhance trust since you get to talk directly to prospects and let them hear, see and feel you.
Gig FAQs: This most overlooked yet powerful section on your Fiverr gig page can help you nudge those customers who are still on the fence over.
Smart freelancers use FAQs to address buyers' concerns. Besides, the FAQs section allows you to cover what you weren't able to in the description section due to the word limit restrictions.
You can add up to 10 questions to each gig on Fiverr, and are allowed a maximum of 300 characters in the answer section. That's 3,000 extra characters.
By leveraging FAQs in your gigs pages, you get to speed up the purchasing process as most of the customer's concerns would have been addressed up front.
6) Reach out to Past Customers
Reaching out to some of your clients who really liked your work but haven't ordered from you again is one of the best ways to get new orders from Fiverr.
A lot of people would be hesitant to do this because they don't want their clients to think that they are desperate for work, but if you genuinely approach them it will help your business tremendously!
An example of a pitch you could write:
Hey Jane,

I just noticed that the article we worked on a few months ago is already ranking on Google. I'm reaching out to see if you have other content plans, especially since you haven't published any new posts on the blog in the past two months.

As always, I can help.
This should be enough to get a conversation going.
How to Promote Fiverr Gigs on Social Media
Social media can be a great way to promote your Fiverr gigs if done right of course.
The best way to do so is to use social media for showcasing your work.  For instance, if you're an artist, you can post your portfolio on social media networks in a way that raises the curiosity of your potential clients.
To help you understand the best strategies to use, let's discuss the different channels and how you can subtly introduce your services without spamming groups and forums
7) How to Promote Fiverr Gigs on Facebook
Done right, Facebook can be a great place to promote your gigs. What I've seen many people doing is joining a bunch of Fiverr groups and spamming their links all over. This doesn't work for three reasons:
No context at all
Everyone in the group is doing
These groups are full of sellers, not buyers
Instead of doing what everyone else is doing, just to get a couple of impressions, think of a long-term approach to building a loyal audience on Facebook.
Here are some of what I recommend:
a) Join Group groups relevant to your services.
Instead of joining general Fiverr groups, find groups that are specific to your services. Find groups on content writing, graphic design, transcription, virtual assistance, video animations…
When searching for these groups, find ones that allow members engagement through posts and comments.
Once approved to a group, make an introductory post. Let people know that you are excited to be part of the community and subtly mention what you do.
The next thing is to be part of the discussions. Comment on other people's posts and works. Be nice and useful. People will notice you.
After two weeks or so of actively engaging with the group members, start steering the conversations. Look for topics and questions that pique people's interests, adding your personal touch.
At this point, you're a popular name in the group and you can get away with subtle promotions. The best way to do this is to share portfolio work. Make these your best works, and ask people to share their opinions. Curious prospects will start contacting you, and you can choose to work directly with them or send them to your Fiverr profile.
b) Start a Facebook page for your service
Your Facebook page can be a great way to build a fanbase, especially if you are in the visual freelance space. Choose a professional name, and optimize it fully to appeal to the people that you want to attract.
To make people connect with you on Fiverr easily, add your Fiverr profile link in the About section of your Facebook page as the website address. To do this, click on the "Update Info" option available below the cover photo on the left side of the screen and add your Fiverr link in the "Contact" section.
The next step is posting quality content regularly. What you post can range from case studies, client testimonials, showcasing your work, and sharing other people's content, to posting your portfolio images. Get people to engage with you by asking leading questions, and responding to every comment.
You can always leave the link to your Fiverr gig in the comments section.
When it comes to promoting your Fiverr gigs directly on your page, focus on creating a context that gets people interested, instead of just dropping your links.
c) Create a Facebook group for your gig
Creating a Facebook group for your gig is another great way to promote your gigs on Facebook.
The group you want to create should be around the services you provide. For instance, if you sell SEO writing services, then create a group on SEO writing or content writing. Use this group to educate members and encourage discussions around SEO writing.
While it's true that the majority of the members will be freelancers, a small percentage of them will be clients looking for writers. Continue sharing powerful tips, and personal stories on working with clients and soon you will have clients inboxing you. When they do, you can direct them to your website of Fiverr gig pages.
8) How to Promote Fiverr Gigs on YouTube
The first step in promoting your Fiverr gigs on YouTube is to create a channel and upload videos that engage with potential customers. This will help you build an audience that is interested in what you have to offer.
Once you have your channel up and running, it's time to start sharing it with people who could benefit from your services. This can be done by sending out emails and social media messages.
The next step is to create targeted video content around your services that will help generate leads for your business. For example, if you sell translation services, you can talk about why brands need to translate their content in multiple services, what to look for when hiring a content translator on Fiverr, and places for hiring translators.
Before posting your videos, you need to optimize for YouTube SEO. A tool like TubeBuddy will help you come up with the right keywords in the video description. Remember to promote your Fiverr by including the links in the description section.
You can combine Fiverr freelancing with affiliate marketing by joining the Fiverr affiliate program and make more money from your video efforts.
9) How to Promote Fiverr Gigs on Pinterest
Pinterest is a great place to promote your Fiverr gigs, especially if you're looking to reach a broader audience. If you're not already familiar with Pinterest, it's a social network that allows users to share images and other media. The site has over 500 million monthly active users, so it's definitely worth the effort to learn how to use it for your business.
Something you need to remember to do is to add your Fiverr profile link as your website address on Pinterest. This link appears prominently at the top of your Pinterest profile page. This helps direct traffic to your Fiverr page.
Here are some tips for promoting Fiverr gigs on Pinterest:
a) Create and Optimize your Pinterest profile
If you are creating a Pinterest account specifically for promoting your Fiverr services, then you need to take time to find relevant keywords that you want to rank for and use these keywords throughout your account:
Pinterest Name
Pinterest Username
Pinterest Board Names
Pinterest Profile Descriptions
b) Create and Optimize Relevant Pinterest Boards
Create boards dedicated to different types of services that align with what you sell through Fiverr. You can also create boards specifically for holiday-themed projects or seasonal items such as Valentine's Day cards if they fit your service niche.
c) Start Pinning Strategically
To grow your presence on Pinterest, you need to push out quality pins. You can create carousel posts that teach your audience concepts around your industry, create tutorial idea posts and build a following. From time to time, you need to create fresh pins that point back to your Fiverr gig pages.
d) Use relevant keywords in your post pin descriptions
The more relevant terms you use in your description, the more likely someone will find it when they search for those terms on Pinterest.
For example, if you sell Photoshop services, include phrases like Photoshop editing services, background removal, image enhancement, etc. Doing so will help increase the visibility of your pins and improve their ranking on Pinterest search results.
10) How to Promote Fiverr Gigs on Instagram
While Instagram is not the best place to promote your Fiverr gigs, it's still a great place to get some exposure.
Here are some tips on how to promote Fiverr gigs on Instagram:
Set your Fiverr profile link as your Instagram bio link to direct people away from Instagram to your Fiverr page.
Showcase your best work: Instagram is a visual social network, which makes it perfect for showcasing your work and getting people interested.
Use the right hashtags: Hashtags are a great way to promote your Fiverr gigs on Instagram. They will help you get discovered, reach new audiences and increase your visibility among other users. The best thing about hashtags is that they can be used in any post, including captions or comments
Turn your reviews into Instagram posts: With a tool like Canva, you can turn your reviews into beautiful Instagram posts. You can either copy text or screenshot Fiverr reviews and edit them on Canva. These posts serve as testimonials that you can then share with your followers on Instagram
11) How to Promote Fiverr Gigs on Twitter
Twitter is another great social media network for promoting your gigs. Here are some ideas on how to promote your gigs on Twitter:
Optimize your Twitter bio: Let people know who you are and what you can do for them. Also, set your Fiverr profile link as your Twitter bio link to make it easy for prospects to land on your gig pages.
Tweet strategically: Use your account to attract your potential customers. To do this, share posts around your service industry, making sure they're thought-provoking and engaging. Another popular strategy to grow your account is using threads as people tend to follow you once they know that you run insightful threads.
Engage with others: Reply to tweets that mention keywords related to your service or products (for example, if you sell SEO services, reply to any tweet around content writing, writing jobs, freelance writing, etc. )
Subtly promote your services: You can do this by starting a thread on your personal experiences with clients on Fiverr
12) How to Promote Your Fiverr Gigs on Quora
Quora is a question-and-answer website that allows you to connect with people who have similar interests. You can ask questions about any topic, and other members of the community will provide answers.
It's also a great place to promote your gigs. This is because Quora is home to potential customers who got there looking for information on the topics related to the services that you are providing.
Before you start promoting your gigs on Quora, you first need to ensure that your profile is fully optimized.
Now, here are some steps for using Quora to promote your Fiverr gigs:
a) Create a squeeze page on your website or blog where you describe the service you provide, with a link to your Fiverr gig page. If you don't have a blog, you can create a free one using free blogging platforms like WordPress, Blogger, or Medium, or create a self-hosted blog for more freedom and flexibility.
b) Find relevant questions about your services using Quora's search feature. You can also use Google Search for this purpose and take advantage of Google's tools for finding relevant questions that may have been asked before (like Google Trends).
c) Post a detailed answer or comment on these questions that demonstrate that you know your stuff.
d) Include a link in the answer or comment that directs readers back to your squeeze page on your website.
You should post on Quora every day or at least once a week with content that relates to your service. This will help you build an audience and establish yourself as an expert in your niche.
Remember that simply spamming links on Quora will get you banned, so focus on genuinely being helpful, and you will find your buyers.
13) How to Promote Fiverr Gigs with Your Website and Blog
To take your Fiverr business to the next level, you can create a blog or website dedicated to your Fiverr gig services. Use this as a portfolio. When people land on your website they will be able to see all the services that you offer, and clicking on each should take them to the individual Fiverr gig page.
If you will be using this website as a portfolio on Fiverr, make sure that it does comply with Fiverr T and Cs. Basically, do not include contact information on the website or ask people to contact you outside of Fiverr.
Other tips to promote Fiverr gigs on your website or blog include:
a) Blog about your gigs
Create a blog article about one of your services, then add a link back to that product page on Fiverr. Make sure you are using the Fiverr affiliate link so that you earn a commission if the referred person ends up buying another user's service on Fiverr, instead of your own.
b) Create an About page 
Create an "About" page for yourself on your personal domain and make sure that you include links to all of your gigs within the content itself. Another option is to actually embed your gigs which makes them appear as real gigs on your website.
c) Use Fiverr Profile Widget
Fiverr makes it easy to add a profile widget to your website with a simple embeddable code. Include this widget on each page of your site to direct visitors to your Fiverr profile page.
An example of a Fiverr freelancer that understands the concept of promoting Fiverr gigs using a website is Carrie of carrieblogger.com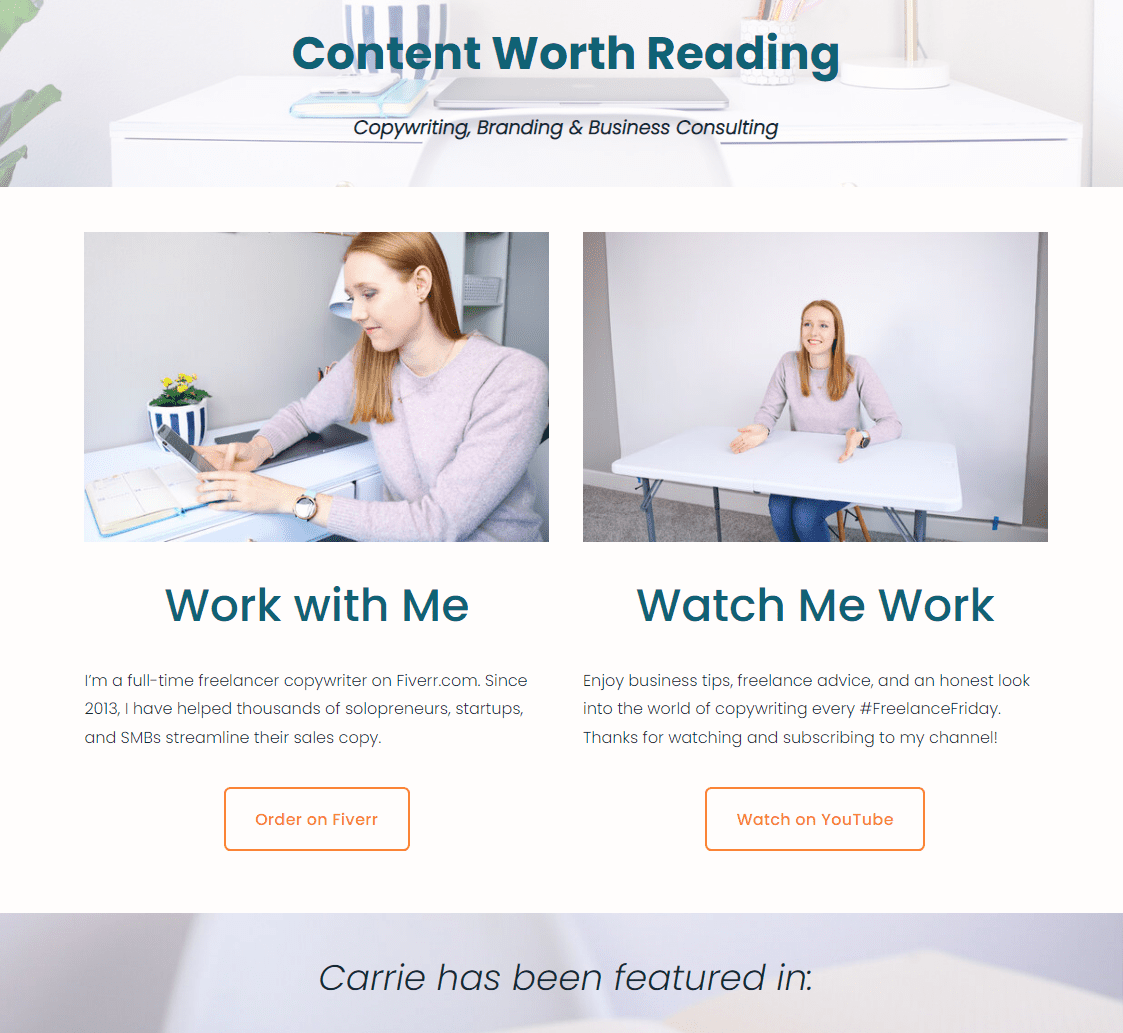 14) How to Promote Fiverr Gigs on Reddit
Reddit is a social media platform that allows users to discuss and share content they find interesting in various categories called subreddits (there are thousands).
Content can be text, text links, or multimedia. Users then vote on these posts, which determines their position on the site and makes them visible to other users who follow those subreddits.
The common way of promoting Fiverr gigs on Reddit is joining the subreddits specifically created for Fiverr Gig Promotions.
Examples of these subreddits include:
When posting on Reddit, make sure you're abiding by the community's rules. Reddit has a few different rules for each subreddit, so you'll have to make sure that your Fiverr gig ad follows them. If you're unsure, check out the sidebar or ask a moderator.
Another way is to join subreddits relevant to your services, become a great contributor, build a following and position yourself as a freelancer. No matter what niche you're in, there are always threads where people ask for help with specific tasks. These are prime opportunities for you to build a name for yourself.
Paid Ways to Promote Fiverr Gigs
So far, we've only looked at free ways to promote your gigs, but there are paid options as well.
15) Social Media Ads
a) Facebook Ads
Facebook ads are great for promoting your gig on Facebook. You can target people based on their interests and location. It's a great way to reach out to people who may be interested in your services but don't know you exist yet.
b) Sponsored Posts
You can also pay relevant influencers to feature your gig on their timelines, either on Facebook, Instagram, TikTok, or blog. This is another good way to reach out to new customers without paying too much money upfront. The only downside is that you won't know if it will work until you try it out firsthand!
c) Twitter Ads
Twitter ads are similar to Facebook ads. You can target your customers based on location and interests like with Facebook ads, but these are more focused on getting more clicks and conversions rather than just likes and shares as with Facebook
16) Google Ads
Google AdWords is another great way to promote Fiverr Gigs and reach customers who might be interested in what you're selling. You can use keywords like "graphic design", "web design", etc., and then show ads to people who search for those terms on Google Search or YouTube. This will help you get more traffic on your gigs and earn more money from them!
17) Fiverr Promoted Gigs
Fiverr recently introduced promoted gigs. You pay Fiverr to kinda favor your gigs for relevant search phrases and are charged based on clicks rather than impressions.
Fiverr Promoted Gigs are displayed at the top of search results and in related categories, so when you promote your gig, it's more likely that people will see it and click on it!
Promoting your gig can help you get more sales and grow your business more quickly.
The good thing about Fiverr-promoted gigs is that you don't have to commit. Give it a try for a few days and if you don't see good results, go ahead and pause the promotions.
Fiverr Promotion FAQs
Where to Promote Fiverr Gigs?
There are several places to promote your Fiverr gigs, including:
YouTube
Pinterest
Twitter
Facebook
Instagram
Fiverr Search Results Pages
Quora
Reddit, etc.
Wrapping Up
I hope that these Fiverr promotional ideas have helped you realize that there are tons of free things you can do to promote your gigs! Be creative, be unique, and take advantage of all the free tools out there to start having those orders come through.
Originally posted 2022-10-24 14:43:16.