On desktop computers, you can use a site named Omegle to chat with strangers. Sites like Omegle are very useful, especially when you feel very low and alone. However, Omegle doesn't have an Android or iOS app; hence if you want to chat with strangers on your mobile devices, you need to look for other ways out.
Since we have already shared a list of the best Random chat apps for Android, today, we will discuss the same for iPhone. Like Android, iPhone also has quite a few apps that allow you to chat with strangers for free.
You must find and install those apps on your iPhone and start chatting with strangers immediately. So, if you are looking for the best Random chat apps for iPhone, you have landed on the right page.
10 Best Random Chat Apps for iPhone (Anonymous Chat Apps)
This article will list some of the best free strangers chat apps for iPhone. You can use these apps when you've no one to talk to but desperately want to speak. Here are the best apps.
1. Addchat
Well, Addchat is a premium random chat app for iPhone on the list which allows you to connect with strangers. It's not a regular text chat application, as it allows you to see users from your country.
You can check all strangers available on the app with a monthly subscription. And since it's a premium app, Addchat has no bot or spam users.
It's one of the best random chat apps available for iPhone with weekly, monthly, or yearly packs.
2. Connected2.me
Connected2.me is one of the best iPhone apps on the list that provides you with anonymous chat options. With Connected2.me, you can easily connect with a random user and start a chat session.
The iPhone anonymous chat app also offers useful features like the Shuffle to see who's online and available for chat, share your story, etc.
Connected2.me is a great iPhone app to share secrets and confess your feelings, thoughts, emotions, and other secrets freely with random users. The app ensures that your confessions always remain anonymous.
3. Chatous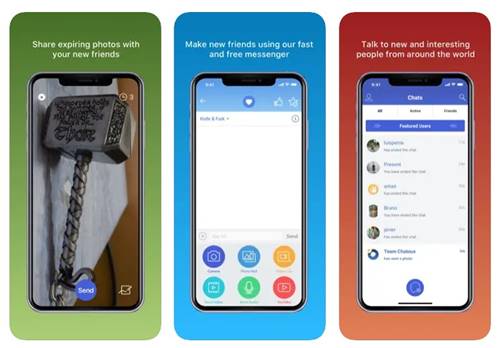 Well, the Chatous app for iPhone got many negative reviews, but it's a free app that you can use to connect with a random user. It's basically an iPhone app that lets you chat with people worldwide about the topics you care about.
While the app is not advertised as 'Strangers chat' as you are required to create an account, you can still use it for random chats.
You need to create an account with a random app that starts finding people interested in topics you care about. The good thing about Chatous is that it lets you find people with the #hashtags.
4. Wakie Chat
Wakie Chat is very similar to the Chatous application listed just above. However, Wakie Chat claims itself as a stranger chat application for iPhone. It allows you to express feelings with strangers.
You can take Wakie Chat as a social app, as you can create a topic and start a discussion. Through discussion, you can find the right person to chat with.
The good thing about the Wakie Chat app is that it supports both voice and text chat options. However, you must manually set the privacy settings to make yourself fully anonymous in Wakie Chat.
5. Whisper
Whisper is a free iPhone app on the list that lets you share, express, and meet new people worldwide. It's basically an online community where millions of people worldwide share their real thoughts and trade advice.
The iOS stranger chat app is very popular, and over 30 million users right now use it. Whisper is also pretty addictive, as with time; you will feel that this is the app you'll need, especially in stressful conditions.
Whisper app is completely free to download & use, and it doesn't have any in-app purchases. Overall, Whisper is a great stranger chat app for iOS that you shouldn't miss.
6. MeetMe
MeetMe isn't an anonymous chat app, but you can still use it to connect with strangers. The iOS app helps you find new people nearby who share similar interests and are available for chat.
Over 100+ million users now use the app, which is a great app for making new friends. While the app is free, it has an optional premium subscription service called MeetMe+.
MeetMe+ offers you more features, but the monthly plans are expensive. Overall, MeetMe is a decent stranger chat app for iOS.
7. Anonymous Chat Rooms
As you might have guessed from the name, Anonymous Chat Rooms is an app that provides you with chat rooms or one-to-one anonymous chats. The app has a decent number of active users, and it's one of the best apps for connecting and chatting with strangers.
It's an anonymous chat app for Android where you can start a chat without setting any name, gender, location information, etc. So, if you are searching for the best iPhone app to chat with strangers to have fun or kill time, then Anonymous Chat Rooms could be an ideal choice.
8. TalkLife
TalkLife is an iPhone app for those battling mental health, anxiety, and depression. It's an anonymous chat app for iPhone that lets you connect with others and chat.
The app has a very active community of like-minded, supported people who always come forward to advise and give support. The app's user interface is very simple and shows fewer ads.
Another best thing about TalkLife is that there are zero bots or spam. All users were active on the list and were very supportive.
9. Twiq
Twiq isn't a very popular app, but it's good enough for meeting new friends and writing anonymously in a private chat. It's a very simple anonymous chat app for iPhone that lets you chat with active users from your area.
Twiq live feature allows you to easily find users who are currently online and available for chat. The app also has a private chat option where you can send messages and photos without revealing your identity.
The photos you send on the chat are automatically deleted after 10 seconds. It also has subscription plans that provide additional features in the app.
10. ChatOften
If you are searching for an iPhone app that can instantly connect you to a stranger for chat, then look no other than ChatOften. ChatOften is a stranger chat app for iPhone that connects you to a stranger.
You can connect and talk to random strangers on any topic of your interest. You can share your secrets and get motivation from them. The good thing about ChatOften is that you don't need to create an account or enter your name.
Everything on this app remains private, and there's less spam on the platform. The only drawback of ChatOften is that it doesn't have many active users, and you often have to wait for more to get a random connection.
All the apps we've listed in the article were available on the Apple app store and can be downloaded for free. So, these are some of the best anonymous chat apps for iPhone that you can use today. If you want to suggest any other anonymous chat apps for iPhone, let us know in the comments below.
Originally posted 2022-10-20 13:46:12.