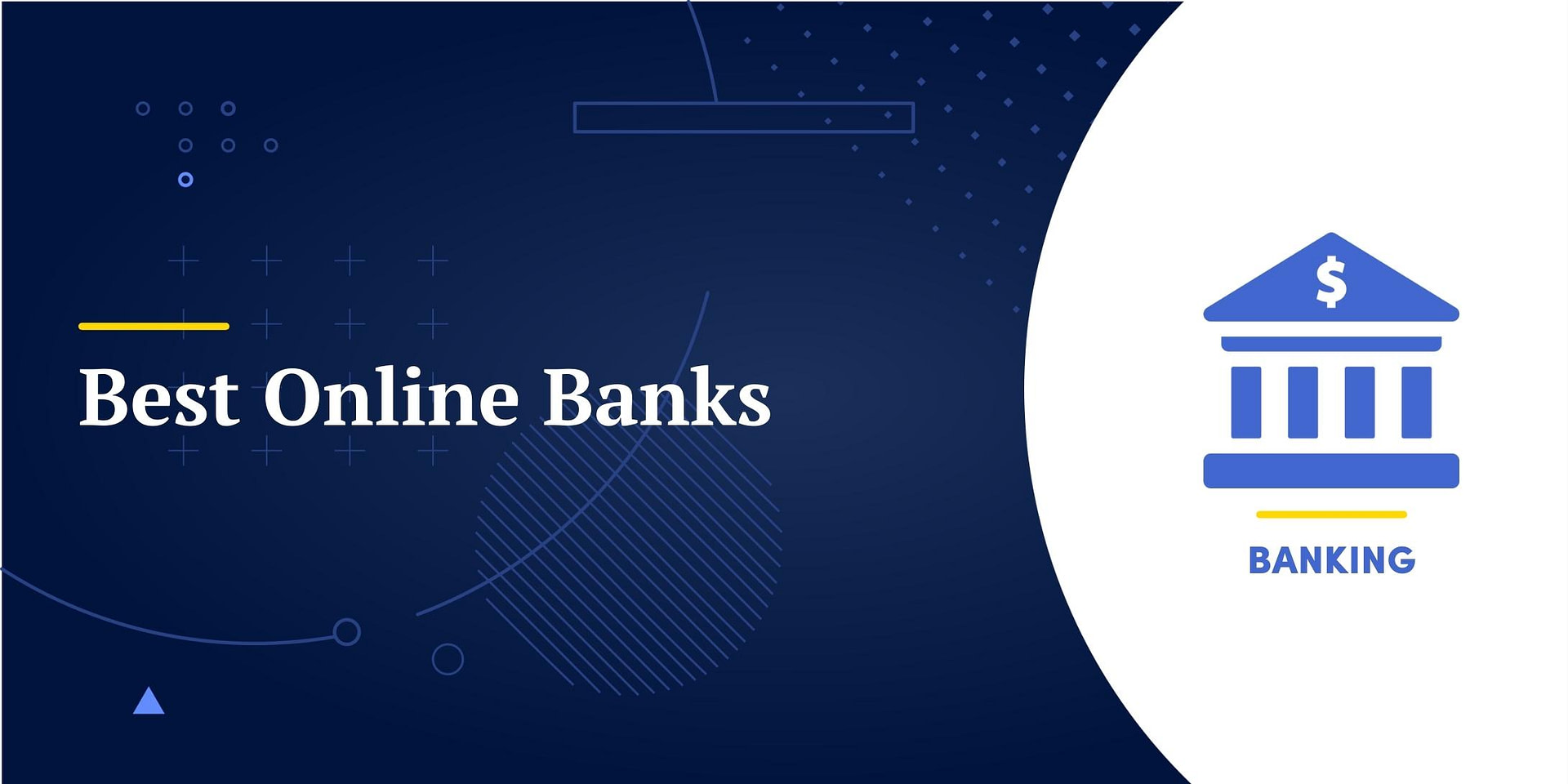 The way people bank is changing in a big way. As of 2021, 21% of US adults use a digital-only bank as their primary account and report greater satisfaction than people who use traditional banks. The best online banks are highly competitive with their branch-based counterparts.
Online banks offer perks that traditional banks often lack, including lower fees, higher interest rates, and above all, convenience. The best digital banks combine these advantages and more.
We've put together a list of the best online banks on the market so you can find the right digital bank for you.
What Is an Online Bank?
Online-only banks are financial institutions that operate almost entirely on the internet, without brick-and-mortar branches. Very few digital banks have physical locations, and if they do they're limited in number.
Customers of online banks can handle all their finances through online or mobile banking platforms. For example, they can pay their bills, open accounts, deposit checks, transfer funds, and perform most transactions traditional banks would allow them to.
Because everything is online, customers need to be comfortable with online banking technology. Luckily, digital banks have online platforms that are easy to use, as well as ATM access and a number of customer support options.
Online banks don't have the cost of operating physical locations, which means their savings are passed on to the customer in the form of lower fees and higher interest rates on savings accounts.
The Best Online Banks of 2022
The best online bank is the one that meets your unique needs. If you're looking for a digital bank, we've put together a list of the best online banks out there to help you narrow your search.
Best Overall: Discover
Best for checking accounts: Quontic
Best for savings accounts: CIT Bank
Best for checking and savings accounts: SoFi
Best for cash deposits: Alliant Credit Union
Best for the range of services provided: Ally
Discover
With stellar customer reviews, competitive rates, and excellent account offerings, Discover is our pick for the best overall online bank.

✔️ Pros: 
No monthly fees
No overdraft or insufficient fund fees
Competitive APYs
High customer ratings
❌ Cons:
Doesn't accept cash deposits 
No physical branches
Discover is a digital bank that offers something for everyone. Its products include some of the best credit cards on the market and savings accounts that can earn you 5x the National Savings Average.
Discover makes banking and managing money easy for its customers. Its highly-rated mobile app has an impressive 4.9 out of 5 stars on the App store and 4.7 out of 5 stars on Google Play. It also offers over-the-phone customer support available 24/7 — a significant benefit when there are no physical branch locations.
The checking and savings accounts have no monthly or maintenance fees and offer competitive rates and rewards. Discover's Online Savings Account offers a 1.80% APY, while its checking account gets you 1% cash back on up to $3,000 in debit card purchases.
The online bank also offers convenient, easy access to a large ATM network nationwide. However, cash deposits are not currently accepted, which can be a major downside if you intend to deposit cash frequently.
| | |
| --- | --- |
| Fees | None |
| APY | 1.80% APY savings account, 1% cash back checking account |
| Banking experience | High user ratings and 24/7 customer support |
| Accessibility (ATM networks) | 60,000+ no-fee ATMs nationwide |
Quontic
Quontic is a strong choice if you're looking for an online checking account that earns a very competitive interest rate at no extra cost.

✔️ Pros: 
High interest on checking account
No monthly maintenance fees
Quontic Pay Ring feature
❌ Cons:
Minimum POS transactions required to qualify for high APY
No customer support on weekends
Quontic's High-Interest Checking account can earn you up to 1.10% APY without charging any monthly or overdraft fees. To qualify for this high yield, you'll need to make at least 10 debit card transactions of $10 or more each statement period. If you use your card regularly, this minimum requirement shouldn't be a problem. However, if you're an infrequent debit card user, failure to make the minimum number of transactions will result in a mere 0.01% APY.
A unique feature offered by Quontic is the Quontic Pay Ring — a wearable payment ring that allows you to make contactless purchases by tapping it. For those who value convenience and don't like to carry their debit card around everywhere, the ring may prove to be a game changer.
Quontic also offers two other types of checking accounts, including a Cash Rewards Checking that earns 1.5% cash back on eligible purchases and a Bitcoin Rewards Checking that gets you 1.5% bitcoin on purchases.
The online bank offers an extensive ATM network and 24/7 access to online and mobile banking. Apple users rate the Quontic app 4.4 stars out of 5, while Android customers are not as impressed, giving it only 3.3 stars. If you need assistance, their customer service agents can be reached by phone from 9 am-6 pm on weekdays, but they're not available on weekends.
| | |
| --- | --- |
| Fees | None |
| APY | 1.10% |
| Banking experience | Monday-Friday customer support |
| Accessibility (ATM networks) | 90,000+ no-fee ATMs nationwide |
CIT Bank
CIT's savings account pays one of the highest yields in the country. And unlike some online banks, it doesn't ask you to meet strict criteria or put down a large minimum deposit to qualify for it.

✔️ Pros: 
High APY on savings account
No monthly service fees
❌ Cons:
Doesn't accept cash deposits
CIT Bank has a range of savings accounts that offer competitive rates and don't charge any service fees. The Savings Connect account pays you a high 2.10% APY and only requires a $100 minimum opening deposit. Its other savings accounts also have competitive yields, but they're certainly not the best on the market. For instance, the Savings Builder account offers only 0.85% APY and requires a minimum balance of $25,000 or a monthly deposit of $100.
Like other online banks, CIT is a great fit for people who like the convenience of banking on their phone or computer. The app receives 4.6 out of 5 stars and 3.4 stars on Google Play. If you have any banking questions, telephone support is also available with extended hours from Monday to Saturday and is closed on Sundays.
Unlike other digital banks on our list, CIT doesn't have a network of no-fee ATMs. However, you can use other banks' ATMs and CIT will reimburse you up to $30 of those fees per month. If you use the ATM regularly to withdraw money, for example, any fees you incur above $30 will be an out-of-pocket expense.
| | |
| --- | --- |
| Fees | None |
| APYs | 2.10% |
| Banking experience  | 24/7 online access + Monday-Saturday telephone support |
| Accessibility (ATM networks) | No free ATM networks, but CIT will reimburse you up to $30 in ATM fees each month |
SoFi
SoFi has a unique product offering — a 2-in-1 checking and savings account that comes with a competitive rate and a generous sign-up bonus.

✔️ Pros: 
High APY
No account fees
Up to $300 sign-up bonus
No overdraft fees
No minimum deposit required
15% cash back at local establishments
❌ Cons:
Checking and savings accounts are combined
Cash deposits cost $4.95 at Green Dot retail locations
If you're looking for checking and savings accounts that offer a competitive rate, SoFi is a strong candidate, as long as you're okay with combining your accounts.
SoFi's new online banking account is a checking-savings account hybrid that earns a very competitive 2.00% APY. On top of that, you can get up to 15% at local establishments when you pay with your SoFi debit card. As a sign-up bonus, SoFi is also giving customers up to $300 when they set up a direct deposit. However, your direct deposit needs to be $5,000 or more if you want to receive the full $300 bonus.
Like its competitors, it doesn't charge any account fees or other hidden fees most traditional banks usually charge.
SoFi is not an ideal choice for customers who make regular cash deposits to their accounts. Cash deposits are only available at participating retail locations and each deposit will cost you $4.95.
The customer experience is something SoFi excels at. SoFi has a highly rated mobile app (4.8 and 4.1 stars on the App Store and Google Play respectively), and an exemplary customer support system. There's a 24/7 virtual chat assistant, a Twitter account dedicated to customer support, and each product offering has a designated customer support line.
| | |
| --- | --- |
| Fees | None |
| APYs | 2.00% |
| Banking experience  | Strong customer support via phone, Twitter, and online chat. |
| Accessibility (ATM networks) | 55,000+ no-fee ATMs nationwide |
Alliant Credit Union
Alliant's cash-deposit ATMs aren't the only feature that makes it a solid digital banking solution — it also offers competitive rates and excellent customer service support.

✔️ Pros: 
Cash-deposit ATMs available nationwide
Competitive APYs
No fees
$20/month in ATM fee rebates
❌ Cons:
Cash-deposit ATMs are limited if you live in a rural area
Online banks are not exactly known for making it easy to deposit cash. Alliant is one of the few digital banks (credit union to be exact) that allow customers to deposit money through one of their many cash-deposit ATMs.
While Alliant has more than 80,000 ATMs nationwide, not all of them are cash-deposit friendly.
You can find one near you by searching for deposit-taking ATMs through their website, but you may have trouble finding one if you live in a remote area or far from a big city.
Alliant is a reputable credit union with a range of products, including online checking and savings accounts that earn above-average rates and don't charge any fees. It also offers a user-friendly online banking platform, a highly rated mobile app (4.7 out of 5 stars on the App Store and 4.1 out of 5 stars on Google Play), and 24/7 customer support.
| | |
| --- | --- |
| Fees | None |
| APYs | 1.70% APY for savings account, 0.25% for checking account |
| Banking experience | Highly rated digital experience & 24/7 over-the-phone customer support |
| Accessibility (ATM networks) | 80,000+ no-fee ATMs nationwide |
Ally
Ally is a top choice among online banks for a reason: it combines a robust product offering, strong rates, and a customer-centric digital banking experience.

✔️ Pros: 
Robust product offering
High APYs on checking and savings accounts
No monthly fees
Ally offers customers a full range of banking products like checking accounts, Robo portfolios, auto loans, mortgages, and more. It also offers accounts with high interest rates, like its 2.00% APY online savings account.
The online bank also doesn't charge any monthly or overdraft fees and offers a chat option or 24/7 telephone banking support. The convenience of a 24/7 customer support line is a significant advantage, considering Ally, like most digital banks, doesn't have any physical branches.
Ally's digital banking platform is very user-friendly and uses simple, jargon-free language to help customers navigate it. The app gets 4.7 out of 5 stars on the App Store and 3.9 stars on Google Play.
| | |
| --- | --- |
| Fees | None |
| APYs | 2% APY for a savings account, 0.25% APY for checking account |
| Banking experience | Customer-centric online experience and 24/7 live agent support |
| Accessibility (ATM networks) | 43,000+ no-fee ATMs nationwide |
The Pros and Cons of Online vs. Traditional Banks
Both online banks and traditional banks are safe places to keep your money and handle your finances. Just like "old-school" banks, most digital banks are FDIC-insured, meaning your money is safe and secure. While both types of banks help you manage your money, they differ when it comes to features and capabilities.
Traditional banks have been around for much longer and offer in-person customer support through their nationwide network of branches. They also offer a wider range of financial products like mortgages or auto loans. As of now, many digital banks offer fewer options than big banks provide.
That being said, online banks offer plenty of other features that make them an increasingly popular choice among US consumers.
👍 Pros of Online Banks
👉 Fewer and lower fees compared to traditional banks — As we mentioned before, online banks don't have the same overhead costs that traditional banks do. This advantage allows them to charge little to no monthly maintenance fees, overdraft fees, ATM fees, or any other pesky hidden fees.
👉 Higher APYs — According to the FDIC, the national average interest rates are 0.13% on savings accounts and 0.03% on checking accounts. Online banks offer up to 5x the national average (sometimes even more), giving customers a chance to earn more on their savings.
👉 A better quality online experience — Because online banks operate entirely online, they typically offer a better, user-oriented digital experience to customers than their brick-and-mortar counterparts.
Not convinced yet? Here are some other benefits of online banks:
Convenience and flexibility
Built-in features like automatic savings and budgeting tools
24/7 or extended customer support hours
Easy and speedy account opening process
Easy to keep track of your finances from anywhere in the world
Little to no paperwork involved
If you're comfortable in the digital world, an online bank may be the best choice for you.
👎 Cons of Online Banks
Digital banks come with an array of advantages, but they're not for everyone. Here are some of the major downsides of digital banking:
Lack of cash deposit options
No physical locations or face-to-face service
Lack of personal relationships
Limited range of products and services
If you're someone that deposits cash frequently and values personal interaction, you may opt for the traditional bank route.
What Are the Benefits of Online Banking?
Online banking offers a host of benefits that can make managing your financial life much easier. If you're interested in finding the best online bank—but you're on the fence about whether online banking is right for you—here are some of the most significant advantages to consider.
Convenience
One of the chief benefits of online banking is the ability to access your accounts from practically anywhere. As long as you're able to log in to online banking or mobile banking, you can check your balances, pay bills or transfer money between accounts.
You can also deposit checks remotely and set up notifications or alerts, all without visiting a branch. If your debit card is lost or stolen, you may be able to log in to your mobile app to deactivate the card so no new purchases can be made. These are tasks you can do with the tap of just a few buttons.
While online banks may lack branches, many of them offer ATM access if you need to withdraw cash. In short, online banking keeps you in touch with your money whether you're at home, out to dinner or taking an extended trip.
Added Features
Online banking and mobile banking allow you to perform a wide range of functions. But you may get more than simple account management.
Some of the best online bank accounts include features such as:
Goal trackers
Automated savings
Financial calculators
Budgeting tools
Person-to-person payments
Integration with mobile wallet apps
All those features can help you feel more in control of where your money is going. Having built-in trackers or automated savings can also help you get into a regular savings habit if that's something you've been struggling with.
Cost
Online-only banks don't have the same overhead costs that traditional banks do. That can be a huge benefit if you're tired of paying high fees.
Many of the best banks online charge no:
Monthly maintenance fees
Minimum balance fees
Person-to-person transfer fees
Incoming wire transfer fees
Foreign transaction fees
Overdraft fees
ATM fees
Some of the best online banks even refund your foreign and domestic ATM surcharges up to a certain amount each billing cycle. The less you pay in fees, the more of your hard-earned money you get to keep.
Online banking can pay off in a different way if you take the money you save on fees and deposit it into a high-yield savings account. Online banks can offer rates that are much more competitive than brick-and-mortar banks, owing to their lower overhead costs.
Record Keeping
Keeping track of expenses is crucial for creating—and sticking to—a realistic budget. Online banking simplifies that task by letting you review credit and debit transactions at a glance.
You can easily filter your account details to look for specific transactions or review purchases made over a certain period. As mentioned, some of the best online bank accounts offer digital tools that let you categorize expenses for easier budgeting.
Other Benefits of Online Banking
Online banking offers many advantages. Here's a quick look at some of the pluses of banking online:
It's easy to open accounts without going to a branch.
Automatic bills payments save you time and postage.
There's no need to wait in line for a teller.
You can pay bills with no fees.
Automatic savings deposits can grow your money faster.
Online banking can integrate with budgeting apps.
You can monitor your account for fraud from anywhere.
Online banking can take some of the hassle and frustration out of keeping up with your accounts. And it's a secure way to manage your money.
Online banks may use the same level of encryption as brick-and-mortar banks and they can offer enhanced security features, such as multifactor authentication. Those measures, along with taking basic steps to protect your online banking security, can keep your account information safe and out of the hands of hackers.
---
How to Choose an Online Bank
Online banks don't have the costs associated with traditional brick-and-mortar institutions. As such, they tend to pass those savings on to customers in the form of lower fees, higher rates and intuitive digital banking products. But not all online banks are the same, and some offer better products and experiences than others.
Here are some other things to consider when choosing an online bank:
Rates: If you're looking at checking, savings, CD, or money market accounts, getting the highest rate possible will help you make the most out of your money. Opt for banks that offer a high APY compared to competitors.
Monthly fees: Monthly maintenance fees are the most common, and they add up quickly. Now that there are so many free bank accounts, there's no reason to go with one that charges a monthly fee.
ATM fees: If you're getting an account that comes with an ATM card, make sure it doesn't charge ATM fees. You might still be charged ATM fees by other institutions when using out-of-network ATMs, but the best online banks now offer ATM fee rebates as well.
Other fees: Overdraft fees and foreign transaction fees are two other big ones to avoid. Several of the best online banks don't charge overdraft fees. You can also find checking accounts with no foreign transaction fees, which is important if you travel internationally.
Minimum balance requirements: Some bank accounts require a minimum monthly balance to keep your account open, while others require one to avoid fees. The best online banks have no minimum balance requirements—that way, you never have to worry about keeping your balance at a certain number.
Types of accounts: If you want to do all your banking in one spot, you need a bank that offers it all. While it can be a little less convenient, holding different accounts at different online banks can help you get the best deals. For example, you could open a checking account with the best online bank for checking and a savings account with the best online bank for savings.
---
How to Open an Online Bank Account
You can open a bank account online via your chosen bank or credit union's website or mobile app. From there, you'll generally follow the same steps that you would to open a bank account at a branch. Here's a typical step-by-step process for opening a bank account online:
1. Visit the bank or credit union's website, or launch its mobile app.
2. Find the type of bank account you want to open, and fill out an application for a new account.
3. Verify your identity and provide other required information, which may include your address, phone number and email.
4. Make a minimum deposit, if required.
5. Wait for your deposit to clear, which may take a few days. Then, start using your new account.
---
How Is an Online Bank Different From a Retail Bank?
Online banks operate mainly online and often don't maintain branches. Fintech startups, also called "neobanks," fall into the online banking category.
Retail banks offer basic banking services to consumers, such as checking accounts, savings accounts and loans. They differ from commercial banks, which focus on business customers.
Many, if not most, online banks are retail banks. But not all retail banks are online banks, since retail banks can also be traditional brick-and-mortar institutions.
Do Online Banks Have ATMs?
You may need to withdraw cash from time to time, and the good news is that most online banks offer ATM access. The size of the ATM network can depend on who you bank with. Some of the best online banks offer access to more than 36,000 ATMs nationwide, while others offer access to 90,000+ ATMs.
If you're specifically interested in choosing an online bank account based on ATM access, the size of the network is an important consideration. But it's also a good idea to pay attention to whether the account includes any ATM fee reimbursements. Out-of-network ATM surcharges can quickly add up, so it's good to know if any of those fees might be reimbursed.
Online Banks vs. Traditional Banks
Traditional banks are the big mainstays that operate primarily out of brick-and-mortar locations, like Bank of America, Wells Fargo, Chase, and U.S. Bank. Online banks operate primarily, or exclusively, online. Some may have a handful of branch locations while others may not offer physical locations at all.
Because online banks don't have the overhead costs of operating physical branches, online banks tend to charge fewer and lower fees (the best online banks charge no fees) and offer higher rates on your savings. That said, you won't always get the whole suite of financial services—such as mortgages, personal loans, and retirement—that you can at traditional banks
How We Chose the Best Online Banks
We selected the online banks on this list based on a number of important features such as fees, interest rates, customer experience, accessibility, and more.
Here is a breakdown of the criteria we considered in our evaluation:
Fees
Low fees are one of the most important features customers look for in a bank. In our opinion, the best online banks are the ones that don't charge any fees. As a result, the digital banks we've chosen don't charge any monthly fees, overdraft fees, or any other hidden fees that can eat away at your money.
Competitive APYs
One of the main perks of online-only banks is the high APYs they offer. The banks on our list offer some of the best interest rates on the market for checking and savings accounts, without requesting a high minimum deposit or having other stringent requirements.
Digital experience
We've carefully evaluated the online and mobile banking experience these online banks offer, looking at customer satisfaction, app ratings, and functionality.
Customer support
Customers expect the same level of customer support from online banks as they do from traditional banks. Most banks on our list have a strong customer support system that includes 24/7 telephone support, online chat, and other helpful resources.
Access to ATMs
When there are no physical branches, ATM access is crucial. The banks we've selected have an extensive no-fee ATM network or reimburse you for using other banks' ATMs.
Types of accounts offered
When evaluating online banks, we looked at the range and quality of products offered. Each bank on this list has a strong reputation and a solid product offering.
Bottom Line
Online-only banks offer a range of significant benefits that make them a great alternative to traditional banks. Before choosing a digital bank, consider what features are most important to you.
Ultimately, the best online bank for you is the one that offers the right combination of features and products that meet your unique needs.
Frequently Asked Questions

Are Online Banks Safe to Use?
Online banks are just as safe as traditional banks. Accounts at the best online banks are FDIC-insured on up to $250,000, which is standard for traditional banks as well. These accounts also have the same, if not more advanced, security features for online banking as other banks.
Does the FDIC Insure Online Banks?
The FDIC does insure online banks, and most accounts at online banks are FDIC-insured on up to $250,000. This is standard for all types of banks.
Do You Pay More Fees with Online Banks?
You typically pay fewer and lower fees with online banks. It's cheaper for online banks to operate online, so you get some of that savings in the form of no monthly maintenance fees, no ATM fees, and sometimes even no overdraft or foreign transaction fees.
Methodology
To select the best online banks, we surveyed over 25 online banks, looking at rates, fees, rewards, minimum balance requirements, customer service, mobile app, and types of accounts offered. These are the most important features when it comes to online banking if you want to minimize your cost, maximize your earnings, and enjoy a convenient and easy banking experience.
We ruled out any online banks that charge monthly maintenance fees on checking and savings accounts because there are so many that don't. We also didn't include any banks that require high minimum opening deposits or high minimum monthly balances. A high APY wasn't a strict requirement if the bank stood out in other ways, such as cutting out all fees. Likewise, banks with a minimum opening deposit requirement were considered, as long as it was low and the bank offered something in return, such as a high APY.
Banks surveyed include: Alliant Credit Union, Ally Bank, America First Credit Union, American Express National Bank, Axos Bank, Bank of America, Bank of the West, Bank5 Connect, Barclays, BMO Harris, Bread Savings, BrioDirect, Capital One, CFG Community Bank, Citizens Access, Colorado Federal Savings Bank, Connexus Credit Union, Consumers Credit Union, Credit One Bank, Discover Bank, First Internet Bank of Indiana, First Tech Federal Credit Union, FNBO Direct, GO2bank, Golden 1 Credit Union, HSBC Bank, Huntington Bank, Lake Michigan Credit Union, LendingClub Bank, Live Oak Bank, M&T Bank, Marcus by Goldman Sachs, Merrick Bank, Nationwide (by Axos), Navy Federal Credit Union, NBKC, OneUnited Bank, Pentagon Federal Credit Union, PNC, Popular Direct, PurePoint Financial, Quontic Bank, Rising Bank, Salem Five Direct, Sallie Mae Bank, Santander Bank, SchoolsFirst Federal Credit Union, Synchrony Bank, TAB Bank, TD Bank, TIAA Bank, Truist Bank, U.S. Bank, UFB Direct, Union Bank, USAA Bank, Vio Bank, and Wells Fargo.
The editorial content on this page is based solely on objective, independent assessments by our writers and is not influenced by advertising or partnerships. It has not been provided or commissioned by any third party. However, we may receive compensation when you click on links to products or services offered by our partners.
Originally posted 2022-10-26 21:45:53.