We all know how important email address is in this digital world. You can't sign up for apps or services without a valid email address. Even operating systems like Windows & macOS require an email address to receive app and system updates.
However, entering a personal email address on every other site you visit on the web is not an appropriate option as it invites spam and increases the privacy risk. To be safe, you can use fake or disposable emails.
Disposable emails were temporary emails that get deleted automatically after a few minutes, hours, or days. You can use these temporary emails to sign up on online sites, services, and apps. Hence, if you are interested in exploring the best temp email sites, you are reading the right guide.
10 Best Free Fake Email Generators
This article will list some of the best fake email generators that can generate temporary, disposable, or fake emails within a few seconds. So, let's check out the best free fake email generators in 2022.
1. Temp Mail
Temp Mail is one of the best free email address generators you can use today. The free email generator can protect your privacy by providing you with a fake email address for use.
After getting a temporary email from Temp Mail, you can use it to sign up on various sites, apps, and services. The good thing about Temp Mail is that its email addresses are accepted by popular sites & services.
You can use this fake email generator to sign up on suspicious websites. Temp Mail is completely free to use, and it's totally spam free.
2. Emailfake
Emailfake is one of the unique email generators you can use now. The good thing about this disposable email generator is that it lets you create a temp email with your name.
The site allows you to write a username or domain that you like and generate an email address containing your entered terms.
The only drawback of Emailfake is that it doesn't provide you with a separate inbox. All emails that your address receives are displayed on the email generator page. This means anyone with your email address can see your emails.
3. Generator.email
Generator.email is a temp email generator that can generate a temporary email address for you. You can generate an email address with Generator.email and use it to confirm your email, sign up for a site, sign up for a social networking site, etc.
The best part of Generator.email is that it displays all incoming emails automatically; hence you won't have to reload it constantly. The user interface is clean, and it's super easy to generate a temp mail.
However, the major drawback of Generator.email is that all of the email aliases look like spam, and its email addresses were blocked in popular sites & apps. So, you can strictly limit yourself to using temp mails on suspicious websites.
4. 10-Minute Mail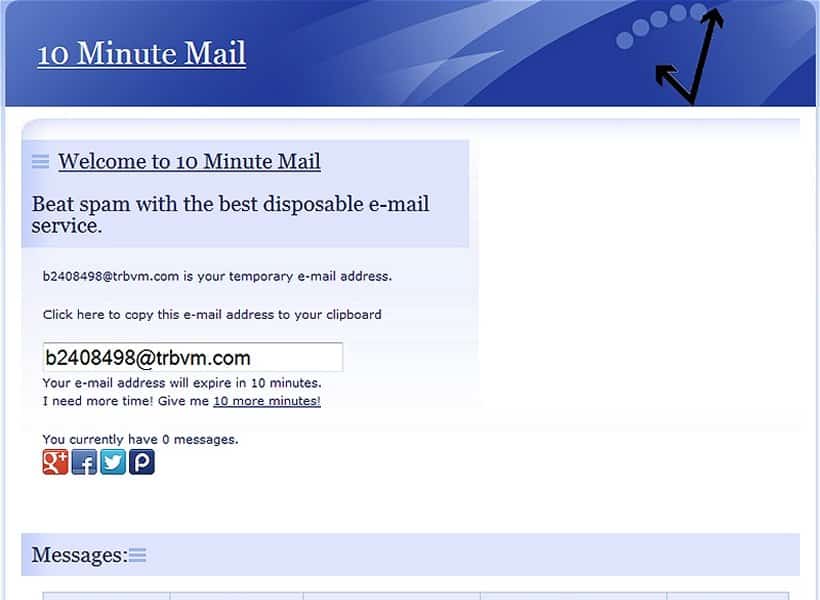 10 Minute Mail is one of the best and leading temporary email providers that provides you with temp email addresses for privacy protection. You can generate an email address on 10 Minute Mail to avoid spam and unwanted emails on your primary email address.
The site automatically generates a disposable email address for you, and every address is valid for 10 minutes. Within the 10-minute time frame, you can use the address to sign up for apps and services.
You don't need to sign up on 10 Minute Mail to generate an email address; if you want, you can also reset the timer to extend the validity of your email address.
5. YOPmail
YOPmail is another best free and feature-rich fake email generator you can use today. The fake email generator protects your privacy and helps you deal with email spam by providing you with a disposable email address.
The user interface of the site is pretty clean and well-organized. It requires no registration and no password. All emails your disposable email address will receive will show up in the email inbox of YOPmail.
The good thing about YOPmail is that it keeps your email messages for 8 days. After 8 days, all messages were automatically deleted from its server.
6. GuerrillaMail
GuerrillaMail is probably the oldest disposable temporary email address generator on the list, generating over 14 million emails until now. This is a great disposable email generator to keep your email inbox safe and clean.
GuerrillaMail automatically generates a random email address on each visit, and you can use it to sign up on various sites & services, use it for email verification, and more.
The most useful thing about GuerrillaMail is that all emails are valid for 60 minutes, and you can send file attachments of up to 150MB on the emails.
7. Trash-Mail
Trash-Mail is a disposable email service with all conventional mailbox functions. With Trash-Mail, you can generate a disposable email, compose it, forward and reply to any address.
Trash-Mail is secure and claims to encrypt all your data with an SSL. Creating a disposable email with Trash-Mail is also pretty easy, and you don't need to create an account or sign up for any services.
You can even send file attachments with your messages with Trash-Mail. Overall, Trash-Mail is a great fake email generator that you can use today.
8. MintEmail
MintEmail may not be as popular as the other fake email generators on the list, but it still assigns you a temp email address that you can use for email verification.
You don't get an option to generate your email address on MintEmail, as the site generates one for you automatically. This is a no-click disposable email service that provides an email address valid for only one hour.
The site has no dedicated inbox folder to keep your message private. It lists all incoming emails on its main page.
9. MailDrop
MailDrop is a no-registration fake email generator that's free for everyone. You can use it when you need a quick, disposable email address.
It's a great email service, especially if you want to avoid spamming and other unwanted emails in your email inbox.
It lets you generate unlimited temp emails for free, and the site has strict spam filters blocking all emails automatically.
10. Dispostable
Dispostable is the last option on the list; you just need to pick a random email address and start receiving emails.
You can use your custom emails, but they should end with @dispostable.com. This means you can generate Dispostable temp emails without even opening its website.
Whenever you feel the need for a disposable email, type anything and put @dispostable.com at the end. Then, open the Dispostable website and check the inbox.
So, these are some of the best fake email generators you can use today. All disposable email services we've listed were free to use and require no registration. If you use any other temp email generator, let us know in the comments below.
Originally posted 2022-10-16 14:46:28.