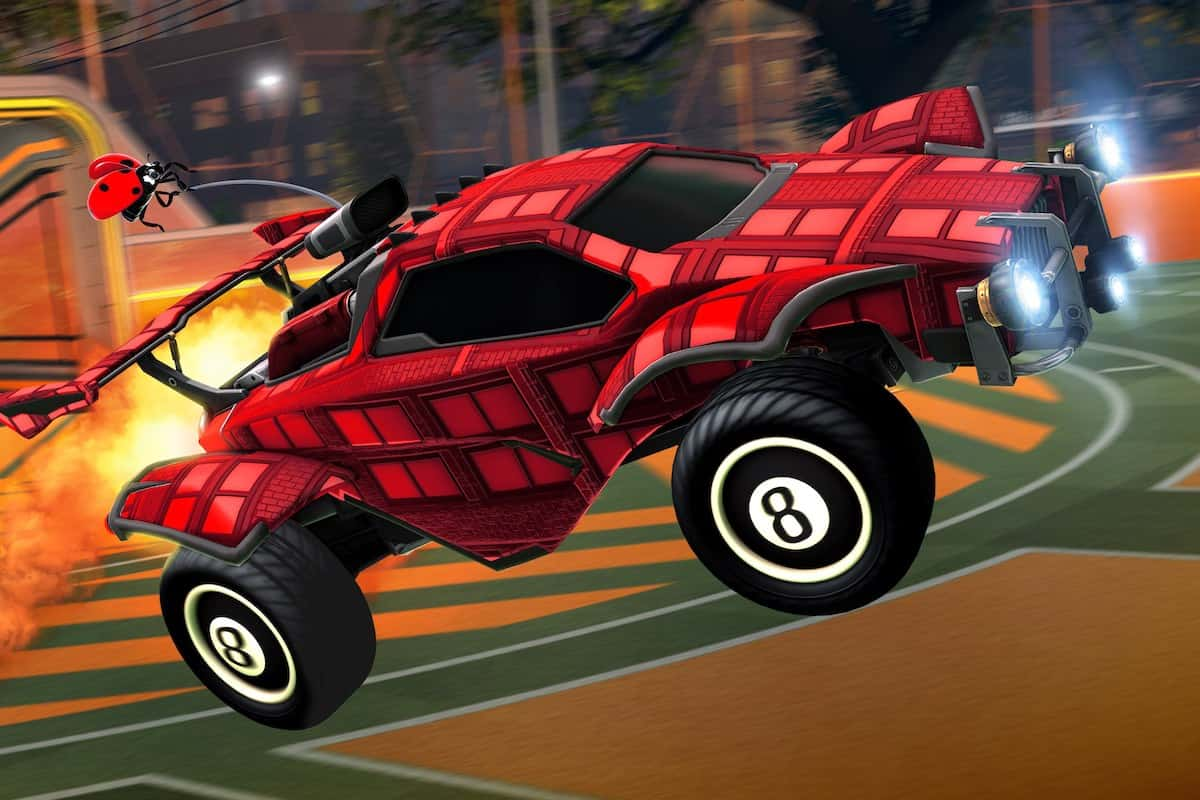 While a lot of video games are shifting towards online multiplayer modes, the fan-favorite split-screen mode is kind of making its way out. Split-screen game modes are still available on quite a few games, and these games get even more fun when playing with a friend.
Here is a list of the best Xbox split-screen games that you can play with a friend and enjoy in your free time.
Rocket League
Rocket League is a free-to-play arcade football game where you and your friends drive around in rocket power cars and score goals against your opponents. There are multiple game modes and a large number of vehicles that you can choose to play with. Players can also choose between fictional and real-life cars made available in the game via various seasonal events.
With the split screen mode in Rocket League, you and your friend can play with each other on the same team. One other great reason why Rocket League split screen is fun is that you and your friend will be able to enjoy the game at 4k 60 FPS.
Key Features: 4K 60 FPS | 2-4 Player Local Co-Op | Multiple Game Events | Cross Platform
Call of Duty: Modern Warfare
Call of Duty is a relatively popular franchise that is played by a ton of players. Whether you just love weapons or just like war games, Modern Warfare is a great game to enjoy with your friend. As expected from Call of Duty games, there are multiple weapons to choose from and a good number of maps for you to play in.
Modern Warfare supports split-screen gameplay, unlike the newer Warzone game. The game also has a battle pass system where you can earn rewards for completing certain objectives—overall a great war game to enjoy with a friend.
Key Features: 120 FPS Support | Local 2 Player | Multiple Game Modes | Xbox Cross-Platform
Cars 3: Driven To Win
Have younger siblings or your kids' friends who want to play a game on the Xbox? Cars 3 is a great option for the kids. As expected, it's based on the popular Cars movie and features their favorite characters from the movie. The game has 20 race tracks where you and your friend can compete against each other All the characters within the game can be customized to your taste.
Cars 3 has 6 game modes that you can enjoy playing with your friends or even your family. The main of Cars 3 is that you be the best driver ad eventually end up in the driver's Hall of fame. Having the right skills and strategies when racing and competing can give you an edge over other players.
Key Features: 2-4 Player Local Co-Op | 20 Customizable Characters | 20 Race Tracks | 6 Game Modes
NASCAR Heat 5
NASCAR Heat 5 is a great game you can play with friends. For starters, NASCAR Heat 5 is the official video game for the NASCAR racing event where you and other drivers compete to become the champion of the NASCAR 2020 Cup Series champion. Whether you are looking for your favorite NASCAR team or your favorite car, they are all officially added to the game.
NASCAR Heat 5 also has several different game modes that you can take part in, such as Xtreme Dirt Tour and the career modes where you can either have a quick race or a simple test session where you can try out your newly tuned cars.
Key Features: Career Mode Staitics | 39 Official Race Tracks | 2 Player Split Screen | Online Multiplayer with 39 other players
Totally Accurate Battle Simulator
Totally Accurate Battle Simulator, or TABS is a fighting game where you play as the leader of the ancient lands. In this game, you are tasked to put your wobblers to fight. You can choose to form a team or simply create a huge monster from all the wobblers. Now, this game would be incomplete if wouldn't be able to play and fight against your friends via split-screen or other people via the online co-op mode.
TABS lets you create your factions and event experiment around in the sandbox mode. The game also has realistic physics and requires you to be strategic during wars and fights.
Key Features: Strategy Fighting Game | Character Creation | Multiple Weapon Choices | Easy 2 Player Split screen mode.
EA Sports FIFA 23
One of the most popular reasons why sports games such as EA's FIFA games are popular is because they still provide players the option to play via the split screen mode. FIFA 23 is the latest football game in the FIFA franchise. You have players and teams from various real-life clubs. As you would expect from such a football game, you will also be able to adjust and customize the street and stadium gameplay.
EA Sports FIFA 23 has more than 7-00 teams, 100 stadiums, and over 30 leagues for you to choose from. You can also play against your friend using the split screen/shared screen game mode.
Key Features: 2 Player Local Co-op | Multiple Teams and Leagues | 4k 60 FPS Gameplay
MX vs ATV: All Out
Dirt racing is another great sports event where you can show off your two-wheeler and quad-bike skills. There are different dirt courses where you can race against each other and at the same time also perform various types of stunts, which will increase your skills. Choose from dirt bikes, ATVs, or UTVs to show off your skills.
MX vs. ATV also supports the split screen mode where you can compete against your friend. You can also use the online multiplayer mode, which features up to 16 players. MX vs. ATV also allows you to create and customize your garage where you can show off all your vehicles. You can also pick from popular riders who are simply the best in their discipline.
Key Features: 2 Player Split screen | Easily Customize your Vehicles | Multiple Game Modes to Complete In | Freestyle Mode to test Your Skills
Road Redemption
Played Road rash during your childhood or the early 2000s? If so, here's the modern take on the game titled Road Redemption. In this game, you and multiple other bikers are on a race for one thing- the bounty and the life of an assassin. There will be several rivals, and friendly gans that you will come across. There are multiple weapons that you can choose from, be it blades, swords, pipe bombs, and even sledgehammers.
Apart from just making use of the weapons mentioned above, you will also be able to kick, punch and grab your enemies to get a lead in the various races you can take part in. There are multiple upgradeable elements, such as weapons, bikes, and characters.
Key Features: 4 Player Splitscvreen | Expandable Skill Tree | Customizable Elements |
Hot Wheels Unleashed
Hot Wheels Unleashed is another interesting game where you and your friends can compete against each other using the numerous available Hot Wheels vehicles. The game has iconic orange tracks as well as multiple power boosters on the track that can easily lead to your advantage. How Wheels Unleashed also allows you to create your tracks to race and drift in.
The game has numerous cars that you can collect and use to race through the multiple tracks. Hot Wheels Unleashed also allows you to race against your friend using the split screen mode or up to 12 players using the online multiplayer mode.
Key Features: Livery Customizer | VCusto Track builder| 2 Player Split Screen | Large Carr Roaster | Track Editor
It Takes Two
It Takes Two is a solely split-screen game where you and your friend play as a couple who has problems with each other. You were previously human beings but have now turned into dolls. Your goal is to help each other since you are trapped in a world full of various traps. Working together is the main aim of this game.
There are different kinds of challenges as well as various character abilities for you to unlock. One other reason why It Takes Two is popular is simply because of the in-game narrative.
Key Features: Split Screen Mode Only | 4K 60 FPS Gameplay | Mutual Teamwork and Strategy planning | Spatial Audio Support
Totally Reliable Delivery Service
The title of the game feels sarcastic, and it lives up to its name. You see, this is a game where you are tasked with delivering various kinds of packages across the map to different people. You also have the option to choose the type of vehicle you want to deliver the packages. The game's cartoonish graphics, as well as the game's physics, are fun. You will be wobbling around the map to get your packages delivered.
The packages need to be delivered at a particular time, and we also have to ensure that the package is not damaged.  The in-game world is full of distractions that make you want to try out various things. No matter what happens, your ultimate goal is to get the packages delivered on time.
Key Features: Split Screen Mode | Fun graphics and game Plhsyics | Time Based Challenges | Interactive Game World
Overcooked 2
There are plenty of cooking games out there that can be enjoyed as a single-player. But, what if you wanted to share the kitchen with your friend and have a good time preparing dishes and competing against the time? Overcooked 2 is what you need to be playing. Overcooked allows you to play with upto 4 players on a single screen- meaning that there's only more fun and more chaos.
Just like the prequel, Overcooked 2 begins with you in the kitchen requiring that you prepare a number of dishes to ensure that The Unbread doesn't starve off to death. The game has a bigger map which you can travel across either via land, sea, or air. Apart from just preparing dishes in the beautiful places on Earth, you also get to prepare dishes on different planets in the solar system.
Key Features: 4 Player Split-Screen | FPS Boost Series X|S | Competitive Modes | Multiple Challenges
Gang Beasts
Looking for a game where you and your friends can have a good laugh and enjoy a good number of gaming hours? Gang Beasts are what you are looking for. First off, the graphics in the game are quite good and secondly, its ragdoll-like physics are comedic. You and your friends are in Beef City and your aim is to make sure to be the last one standing at every level. Your aim is to push your friends off the level in any way you like.
Gang Beasts has a number of different characters for you to customize and choose from. You have a number of levels to play through and upto 4 players will be able to enjoy the split-screen mode. Gang Beasts is the perfect Xbox game for parties and occasions when you and your friends meet up at one's house.
Key Features: Rag-doll Physics| Character Customization | Play against Each Other or Other Teams | 4-Player Local Co-Op
Halo: The Master Chief Collection
An Xbox games list without mentioning a Halo game? Impossible! Everyone knows Halo and how iconic and legendary of a game it is. With the Master Chief collection, you not only get to play Halo, plus also play one of the most popular game modes- split screen. The game has a total of 67 campaign missions. The Master Collection has the 5 best Halo games you could ever want.
Even though these are old Halo games, playing Halo, and using the weapons and vehicles in the game means everything to Halo fans. Ofocurse there's also the multiplayer mode with upto 120 players in a single lobby. You also get 120 FPS support at 4K and 1080p on the Xbox Series X and S respectively. Of course, you play the newer Halo game, but it simply misses out on the split-screen mode, hence the Master Collection is a good choice.
Key Features: Iconic Halo games| Local Co-op Upto 4 Players | Cross gen Multiplayer |120 FPS | HDR10 Support
Dirt 5
Split-screen racing games used to be a feature present in-game of the yesteryears. Less than a handful of racing games now offer split-screen. But, if you are still hoping to look for one, Dirt 5 is your best pick. As you can expect from the name of the game, Dirt 5 is all about dirt racing across different terrains using different types of dirt vehicles. Dirt 5 has a number of licensed vehicles that you can drive, race, and customize to your liking.
Of course, no game would be complete without the different game modes. You can play different game modes such as Time Attack, Smash attack, and Gymkhana modes. You also get to play in the day and night environments plus also complete around with other people or with [your friend's son the same console using the split-screen mode.
Key Features: Split-Screen Mode | Vehicle Customization | Day and Night Mode | Dolby Audio Support | Multiple Events and Challenges
Human Fall Flat
Physics platformers like Gang beats are fun when playing with friends. The same can be said about Human Fall Flat. There are 21 levels for you and your friends to explore and have fun in. You can climb around various towers where you have to solve different puzzles and complete various challenges. Whether you are about crossing through an area or having to jump across, you will find the controls all funny. Because every time you try to move, you'll always feel like your character is losing balance and might fall off at any time.
Overall, you can either choose to play via the online multiplayer mode with 7 players or go ahead with the split-screen mode. Speaking of the graphics, the game world is quite colorful with a variety of different environments.
Key Features: 3D Platformer | Puzzle Solving | Split-Screen upto 2 Players | Supports Mouse and Keyboard Input | Cross-Platform Support
These are the best split-screen games you need to play with your friends on an Xbox Series X or Series S. From this list, Hot Wheels Unleashed and Road Redemption is select games you need to play from this list. Sports games are the best alternatives for more fun times when playing in single-player mode.