One of the most important sporting events this year is the FIFA World Cup. This time, the 2022 FIFA World Cup will take place in Qatar. While matches will usually be played at the local times in Qatar, not everyone will be ready to stay up all day or all night to watch their favorite teams battle each other. The easiest way to stay up to date with sporting events such as FIFA is by making use of football apps that will show you updates to the FIFA World Cup.
Here are the best apps that you need to install to stay up to date on the FIFA World Cup.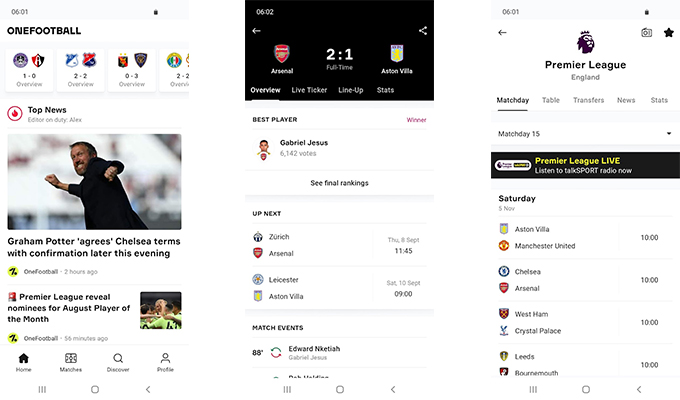 Pros:
One app for all football news
Easy access to football-related blogs
Cons:
Streaming matches and highlights only in UK and US.
Key Features: Football Updates | Rumour News | Transfer Updates | Dark Mode | TV Guide | Live Football Ticker
Whether it's the Premiere League, transfer news, player stats, or just football news, One Football is the app you need to stay updated with the latest happenings in the sport. Given that the FIFA World Cup 2022 is around the corner, you can expect to get all the latest news, scores, and highlights from the world cup just at your fingertips.
The app also allows you to stream and watch various matches and highlights if you reside in the UK and US. One Football also has a live ticker within the app to display all the news and scores on the go.
FotMob – Live Soccor Scores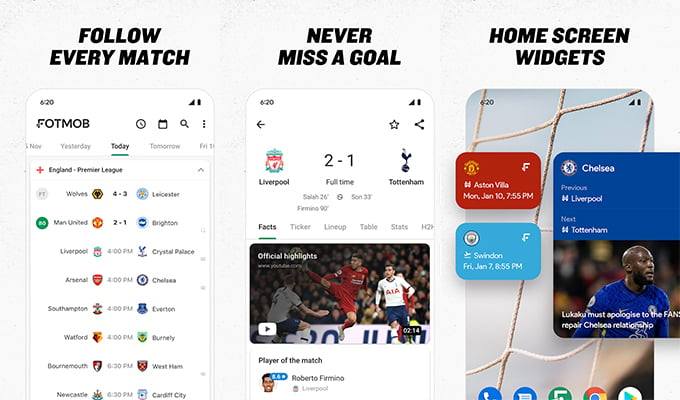 Pros:
Personalized News
Custom Notifications
Cons:
No Live Ticker
Unable to stream football matches
Key Features: Audio Commentary | Watch Support | Shot Maps | TV Schedules | Add Favorite Players and Clubs | Home Screen Widgets
FotMob covers over 375 different types of competitions from around the world. Whether it's the FA Cup, La Liga, Serie A, or anything that you might not have even heard of is available on the app. Of course, you've got all the transfer news, game fixtures, and live text commentary that you can read through when you can't get access to stream the match live.
FotMob provides detailed stats, including expected goals, assists, and player ratings. Another cool feature about FotMob is that you can also get notifications delivered to your Apple Watch or Android WearOS watch.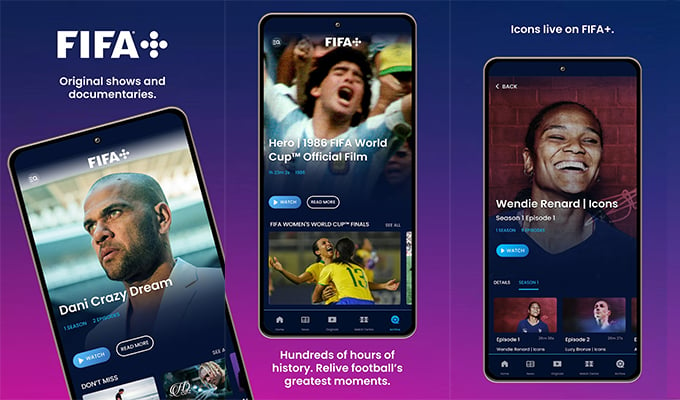 Pros:
Easy Access to Football Shows and Documentaries
Rewatch Classic Moments from previous Cups
Cons:
Misses on Audio Commentary
No Live Ticker for Updates
Key Features: Free Shows and Documentaries | Match Highlights | Live Matches | Breaking News on the Go
Nothing's better than having the official FIFA app installed on your mobile device. Whether it's about staying up to date with the latest happenings, watching football documentaries, or even streaming live matches from domestic leagues, the FIFA app has it all. With the World Cup dates closing in, you can expect even more World Cup-related content immediately.
All the documentaries and highlights from previous World Cups can be streamed for free. You also get behind-the-scenes footage and fan and influencer content related to football events.
AiScore – Live Sports Scores
Pros:
Single tap to match info
Supports 28+ languages
Cons:
No Audio Commentary
No live match ticker
Key Features: Covers Every Football Match and Tournament | Instant Notifications | Score Reminder | Live Chat Room
I love to get updates as quickly as possible. AiScore is the app you need to stay ahead on everything sports. It does cover events, news, and highlights from all types of sports. You can access the scores and match details with just a single tap. You can set up your favorite teams and players to get the news about them as and when anything happens.
AiScore covers 2600 tournaments and 37000 football teams from around the world. There's access to schedules and player statistics for every match and player out there. You can also see what matches are scheduled for other days by simply picking up a date from the calendar.
LiveScore LiveSports Scores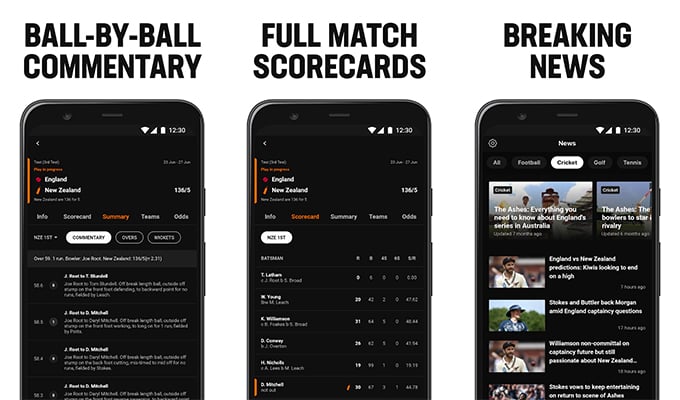 Pros:
Ball by Ball Commentary
Full Scoreboards
Cons:
No Audio Commentary
No way to watch highlights
Key Features: Dark Mode | Instant News Updates | Detailed match Info Club Badges | Easy Access to Sports News Feed
LiveScore is a great app for those who want in-depth information and news about the happening in football. You can access real-time updates, full scoreboards, and even minute-by-minute commentary. It's the perfect app for football nerds out there. You also see the team lineup a few hours before the match officially begins. The app also covers other popular sports such as hockey, cricket, and others.
Football fans will be able to see post-match reviews, transfer news, and the latest happenings in upcoming fixtures. LiveScore also shows you the points tables for the different leagues
SportsMob – Live Scores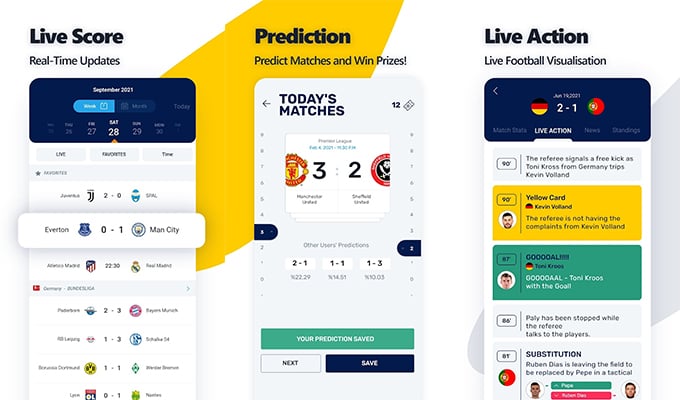 Pros:
Feature Rich
Personalized News and Notifications
Cons:
No way to stream matches live
Key Features: Live Scores | Schedules | Predictions | Add Favorited | Dedicated News Feed
SportsMob is a football app that covers different football matches and leagues worldwide. With SportsMob, you can also follow your favorite football players worldwide. When it comes to living match updates, you get minute-by-minute updates such as substitutions and red/yellow cards. You also get the latest in football via a dedicated football feed.
Apart from all the highlights and latest updates, you can also predict who will win the match and eventually win a few prizes by guessing correctly. There's also live TV commentary for when you aren't able to watch a particular match live.
BeSoccer – Soccer Live Score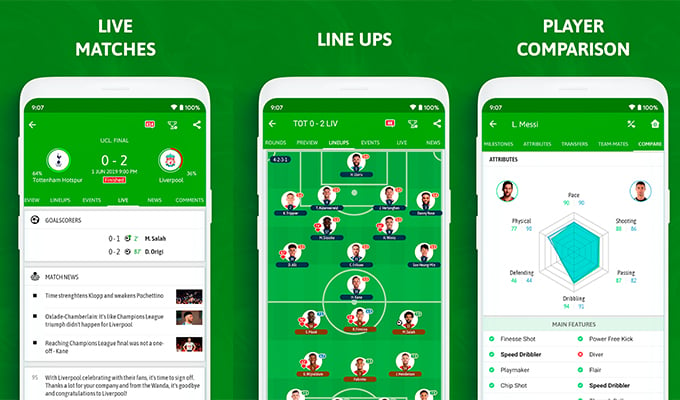 Pros:
Instant Notification Update
Minute-by-minute commentary
Key Features: Dark mode | Match predictions | Player comparison | Largest Scoreboard Database | Ability to Add Missing leagues
BeScoccer is another football app that provides you with all the highlights and updates for every football match that is taking place, including updates for the FIFA World Cup 2022. You can personalize all the info in the app based on the players or teams you like. Whether the player is injured, substituted, or given yellow or red cards, BeSoccer will update you instantly.
One cool feature with BeSoccer is that you can compare two different players and see the stats and other info. You can also comment and discuss with other users of the BeSoccer app about different matches and news within the app itself.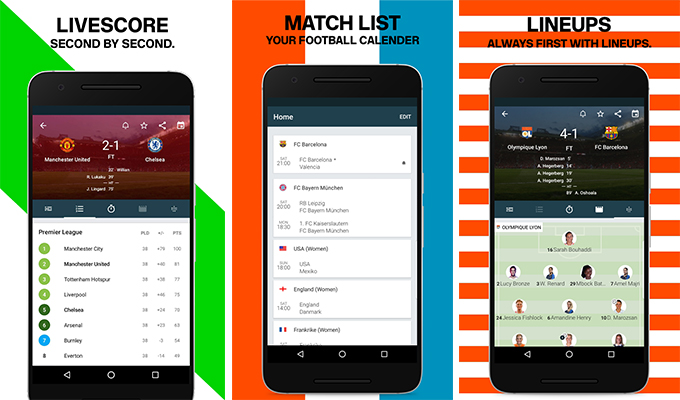 Pros:
Covers men's and women's soccer
Fastest updates via notifications
Key Features: Covers 1000+ leagues View Player Formations | Video Highlights | Dark Mode | match Predictions
Forza Football is another great app that you need to have to stay up to date with the matches during the FIFA World Cup 2022. The app is known to notify you the fastest when it comes to breaking news as well as video highlights from ongoing matches. You can customize these notifications.
Want to see the lineup and player formation before the match begins? Forza Football has got your back. You can also see player statistics and even browse the TV guide so that you can check out what channel will be broadcasting a particular match,
365Scores: Live Scores and News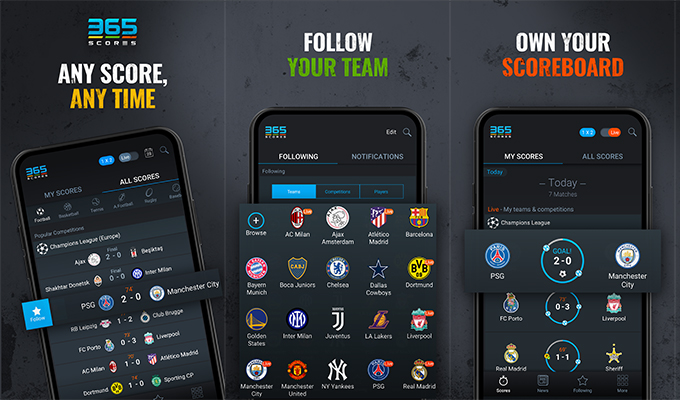 Pros:
Simple and feature Rich
Good for in-depth details about teams and players
Cons:
No Audio Commentary
Misses out on Video Highlights
Key Features: Follow Favorite Teams Detailed Scoreboard Track Player Performance Match Insights
365Scores is a sports app that covers scores and news of sports worldwide. For Football fans, you can find all the interesting news, such as In-depth stats, Live Scores, League Standings, and upcoming matches. You can also get news about transfers, new signings, and even complete roster changes for every match.
One cool thing about 365Scores is that you can follow your favorite team and track every team's performance. The app also boasts about having lightning-fast notifications for every match.
Download: Android | iPhone
Yahoo Sports: Scores and News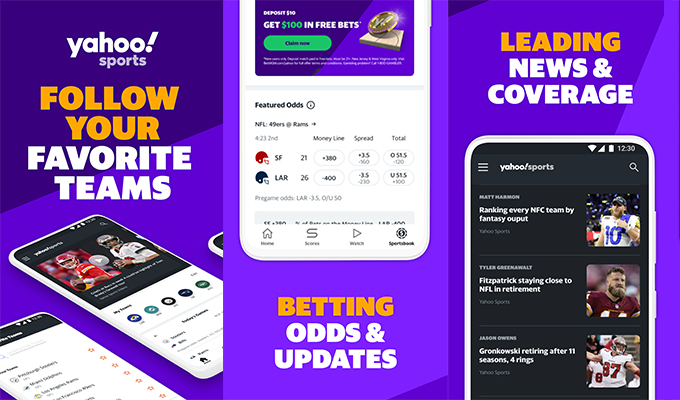 Pros:
Instant news and updates via push notifications
Follow your favorite teams
Cons:
No audio or text commentary
Key Features: Match Predictions | Latest News from Yahoo Sports Newswriters | Best betting Odds | Steam Current and Previous Match Highlights
Yahoo Sports is a popular app that has been around for a while. With Yahoo Sports, you will get all the latest updates from your favorite sports and teams within the sports. Regarding the FIFA World Cup 2022 in Qatar, Yahoo Sports will update you with match-by-match updates, scores, and team standings from the World Cup.
Yahoo Sports allows you to set up custom alerts and notifications for teams and players you like. You can also watch highlights and matches from different football events and tournaments
These are the must-have apps on your Android or iPhone when the FIFA World Cup matches take place. Of course, apart from the scores and match information, you will also be getting coverage about the opening and closing ceremonies as well as where the next World Cup destination is. Of these apps, the LiveScore and SportsMob apps are popularly considered the best ones on this list.
Originally posted 2022-11-05 19:28:32.