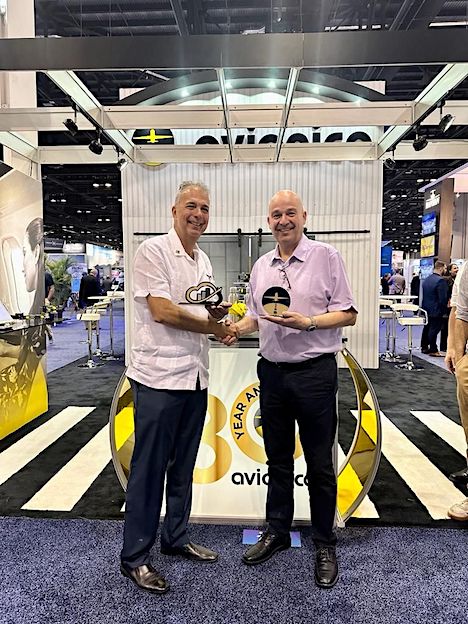 ORLANDO, Fla. — The first two days of the 2022 NBAA BACE featured the launch of a new cloud-based flight data monitoring service and a quick access recorder fleet equipage deal for Avionica. Check out some of the details on both deals shared by the Miami, Florida-based avionics maker below.
Avionica, ERGOSS Partner for Flight Data Monitoring as a Service
On Tuesday, Avionica confirmed a new partnership with Bressols, France-based flight data analysis provider ERGOSS to introduce what they describe as a "fully plug and play SaaS [Software-as-a-Service] cloud-based solution" for flight operations quality assurance (FOQA) monitoring.
The technology has been co-branded by the two companies as "avSARA," combining Avionica's onboard aircraft interface device and flight data monitoring computers with the "SARA" cloud service operated by ERGOSS. SARA uses Microsoft Azure's cloud computing and algorithms to enable a set of flight data monitoring tools aligned to the individual needs and interests of operators.
As a cloud-native application, SARA has the ability to automatically point out "flights of interests, some emerging adverse trends while also constantly monitoring your SPI's [Safety Performance Indicators]" according to its website. Regional French airline Hop!, a subsidiary of Air France, has been using the ERGOSS "SARA.TECH" platform to transmit aircraft data in real time, according to a March 2022 press release from ERGOSS.
ERGOSS CEO, Fabrice Tricoire, says the company has sought to introduce a product like avSARA since 2010 and "now it became concrete and a full functional reality."
The combination of SARA and their onboard data acquisition and analysis boxes will enable operators to "switch pre-configured recorders on and have robust and reliable data within 15 minutes of landing," Avionica notes in an Oct. 18 announcement.
"Information accessible includes flight data, platform analysis, statistical reports, and 4D replay of all flights for any aircraft in your fleet," according to Avionica.
Qatar Airways G650ER Fleet
Qatar Executive Airways will install Avionica's miniQAR-avCM wireless quick access recorder technology on every G650ER within its in-service fleet. The private jet division of Qatar Airways operates 15 total G650ERs—the largest G650ER fleet in the world—and will install the miniQAR-avCM in an effort to "have access to flight data within minutes of landing," according to Avionica.
"Avionica is excited about the installation on the G650ER fleet with Qatar. For thirty years, we have been listening to our customers and we understand Qatar's requirements for quick access to data and standardization of their fleet under one platform," Claudia Espinosa, Vice President of Commercial for Avionica, said in a statement.
Installations of the miniQAR-avCM flight data technology on Qatar are to begin within the final three months of the year.
Originally posted 2022-10-31 18:00:26.