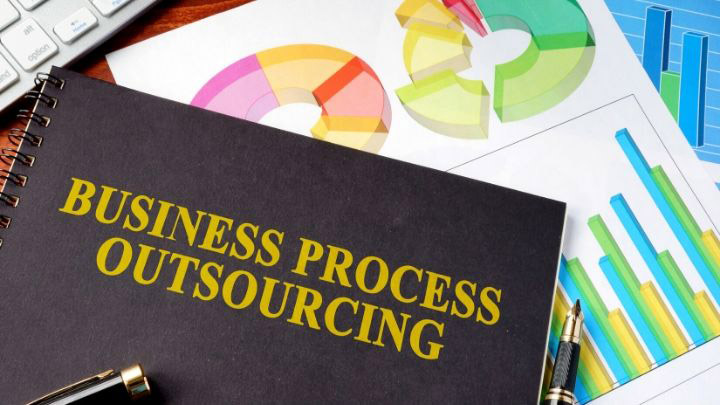 Business process outsourcing entails the contracting out of specific needs to external properties. The statistics found here for BPO activities include domestic and offshore contracts. Although the global market size of these services as a value of $88.9 billion, this figure doesn't represent informal activities that freelance platforms like Fiverr support.
With at least one-third of the U.S. workforce involved in some type of freelance work, unofficial outsourcing figures sometimes double or triple the official revenues reported.
Most BPO activities that get contracted to others are internal business functions like human resources or front office needs like customer services. About $24.6 billion in revenues were officially reported from global activities in this specific segment in 2017.
Fascinating BPO Industry Statistics
#1. The global business process outsourcing industry grew at an annual growth rate of 4.4% between 2012-2016. There are more than 160,000 active businesses supporting the industry in the United States right now. (IBIS World)
#2. The rate of growth experienced by the business process outsourcing industry created revenues of more $140 billion for the first time in 2016. About 1 million direct employment opportunities are available today because of industry activities. (IBIS World)
#3. The largest share of global outsourcing revenues comes from Africa, the Middle East, and Europe. This figure totaled over $55 billion in 2017, with India being a leading recipient of contracts from this area during the year. (Statista)
#4. The total revenues earned from Accenture because of outsourcing in 2017 totaled $19 billion. That figure helped the company have a net global income of more than $4.85 billion. (Statista)
#5. The revenue of the Manpower Group globally totaled $22 billion in 2017, with the Americas segment generating about 25% of this amount. (Statista)
#6. The share of businesses currently using the business process outsourcing industry for their information technology needs stands at 74%. (Statista)
#7. The share of SME and SMB owners familiar with human resources management solutions like WebHR from the business process outsourcing industry is about 18%. (Statista)
#8. 59% of companies cite outsourcing as a cost-cutting tool and the primary reason why they embrace the BPO industry. 57% say that it enables them to focus on their core business. The ability to solve capacity issues (47%), enhance service quality (31%) and access intellectual capital (28%) are also popular reasons to engage with the industry. (Deloitte)
#9. Offshore contracts for the business process outsourcing industry continue to grow in popularity. Almost 80% of businesses globally say that they feel positive about their relationship with an outsourcing partner. (Deloitte)
#10. Over 1 million business process outsourcing industry jobs are at risk in the United States, India, Poland, and the Philippines because of artificial intelligence, machine learning, and the rise of automation. (AT Kearney)
#11. For every four jobs that are lost in the business process outsourcing industry because of automation, one new management position to oversee the technology gets created. (AT Kearney)
#12. 16 out of the top 20 offshore call center projects in 2016 were located in the Philippines, which is one of the world's largest English-speaking countries. The literacy rate in the island nation stands at 95%. (AT Kearney)
#13. About 54% of all companies use at least one third-party support team to connect with customers. That figure means about 300,000 jobs get outsourced from the United States each year. (Fortunly)
#14. Data security is one of the top concerns in the business process outsourcing industry, with 68% of companies citing this issue as a problem when transitioning to cloud-based technologies. 45% say that the services may not be stable or reliable enough for use, while 35% report anxiety about losing their intellectual property. (Fortunly)
#15. 64% of outsources offshore technology functions involve software application development. Over half of today's technology executives say that they outsource maintenance needs, while 3 out of 5 say that their data centers also go in this direction. (Fortunly)
#16. 44% of Chief Intelligence Officers say that they're more likely to use business process outsourcing industry suppliers now compared to 2013 figures. (Fortunly)
#17. The defense and government sectors are the two most significant users of outsourcing in the Americas, representing 81% of the overall contracting value that's available each year. (KPMG)
#18. Call center workers in the United States are only earning about 14% more than the employment opportunities in this same sector in India because of the economic collapse that happened in 2008. (The Balance)
#19. Almost 85% of the deals found in the business process outsourcing industry originate in the United States. The second-largest contributor to this statistic is the United Kingdom with a 5.2% contribution rate. (KPMG)
#20. Once the recession years of 2007-2009 stopped, only 9% of U.S. companies decided to stop using business process outsourcing industry services. 57% of them decided to increase their use of this opportunity. (Deloitte)
#21. India is the primary recipient of business process outsourcing industry contracts, leading with an index of 7.07 for its combination of skill and value. China comes in second at 6.31, while Malaysia is third at 6.11. Sri Lanka has the cheapest outsourcing value for BPO, but a lack of skill gives it an index of only 3.42. (AT Kearney)
#22. The average annualized contract in the business process outsourcing industry was $32.6 million in 2017, which represents a 53% increase from the year before. (KPMG)
#23. 65% of the companies that use the business process outsourcing industry for application hosting say that they intend to increase their investments in this area in the next 12 months. (Computer Economics)
#24. The quality of the service that companies receive is one of the biggest drawbacks to BPO outsourcing, representing 50% of total concerns. This figure is similar to the anxiety that employers have with outsourced workers not being proactive enough to act upon problems. (Credit Donkey)
#25. Despite all of the benefits that the BPO industry offers, 89% of companies say that they would "never" contract out their strategic planning functions. (Credit Donkey)
#26. Some industries use business process outsourcing industry services more often than others, with the banking and financial services industry leading the way. Over 40% of the help desk positions available at banks, credit unions, and similar institutions are outsourced today. (Credit Donkey)
#27. Companies that outsource their payroll management to BPO industry providers save an average of 18% more on this need than businesses that keep everything in-house. When an agency options to contract multiple functions to a single vendor, then this figure rises to 32%. (PwC)
#28. The average salary for an entry-level IT worker in China is $7,000. When hiring this worker in India, the wages rise to $8,400. That person with a similar level of education and experience could earn $45,000 in the United States. That's why the business process outsourcing industry is such an enticing opportunity for many businesses today. (The Balance)
#29. Ukraine is a surprising hotbed of business process outsourcing industry activities in the information technology sector. This country has the highest number of professionals in Eastern or Central Europe, with a workforce expected to reach over 200,000 people by the end of 2020. (Ukraine Digital News)
#30. The information technology BPO industry in India reported an aggregated revenue of $154 billion in 2017. (NASSCOM)
#31. 40% of the workforce in India involved with the business process outsourcing industry would need to upgrade their skills by 2025 to accommodate trends in emerging tech. Without this improvement, big data, artificial intelligence, and robotics contracts may not see as many opportunities. (NASSCOM)
#32. 34% of the outsourcing that occurs in the Philippines involves knowledge process contracts. That makes it a top destination for high-value services like legal consultation, content production, and animation. (EnterPH)
#33. 35% of companies are contractually enforcing data risk and security protocols when addressing the cyber risks of outsourcing. 34% say that they conduct periodic evaluations of their partnerships. This is followed by shared data risk or security protocols (19%) and the expectation that the provider determines the risk available (8%). (Deloitte)
#34. 76% of C-Suite professionals say that regulations around data privacy and protection impact their disruptive outsourcing decisions. (Deloitte)
#35. 80% of companies are looking to change their existing outsourcing processes to take a more structured approach. 42% would like to spend more time in RFP, while 39% say that they'd use a competitive bidding process in the future. (Deloitte)
#36. 8% of the agencies with contracts in the business process outsourcing industry do not know if an audit of their partnership was completed or if one was even started in the first place. (Deloitte)
#37. Only 2% of organizations with outsourcing initiatives that have been reviewed by third-party auditors or internal efforts were completed with a failure listed as the outcome. (Deloitte)
#38. When approaching the BPO industry from RPA contracts, the top area of concern for executives is data security at 62%. Performance and resilience are the next anxiety point at 48%, followed by vendor compliance (42%), loss of IP (39%), and the ability to terminate a contract without an excessive penalty (38%). (Deloitte)
#39. 62% of executives say that their primary objectives for adopting RPA involve performance improvement. 59% say that they wanted to improve the time or speed to the market. These points of emphasis are followed by error reduction (53%), streamlining existing processes (52%), and access to new technology (51%). (Deloitte)
#40. Only 44% of companies say that reducing costs is an important component of RPA adoption, but it is not one of the primary drivers for forming relationships in the business process outsourcing industry. (Deloitte)
#41. The top three cities for BPO industry contracts are all in India: Bangalore, Mumbai, and Delhi. Hyderabad ranks fifth, while Chennai ranks ninth. (AT Kearney)
#42. The BPO industry creates a negative effect by increasing domestic unemployment. With over 14.3 million jobs outsourced in total, that's more than double the number of unemployed Americans. Bringing those jobs back would be enough to hire every full-time and part-time worker that wants a job. (The Balance)
BPO Industry Trends and Analysis
The global BPO industry might seem like it is poised for a massive surge of interest, but the freelance economy and gig providers create unique challenges to the contracting relationships formed. The cost benefits that become achievable through these processes are difficult to deny, but the levels of expertise that are available could be questionable in some areas.
Individual providers might provide more flexibility, but it comes with a higher cost than a contracted block of positions that go to India, China, or Malaysia. When cost is the primary factor for making a decision, the freelance economy will suffer.
New outsourcing opportunities could change this issue. Big data analytics, process automation, and platform-as-a-service offerings could create more competitiveness in this field. Some forecasts suggest that revenues could triple by 2022, but it is a more realistic expectation to see that outcome occur in 2025 or a few years later.
Originally posted 2022-10-14 22:55:14.