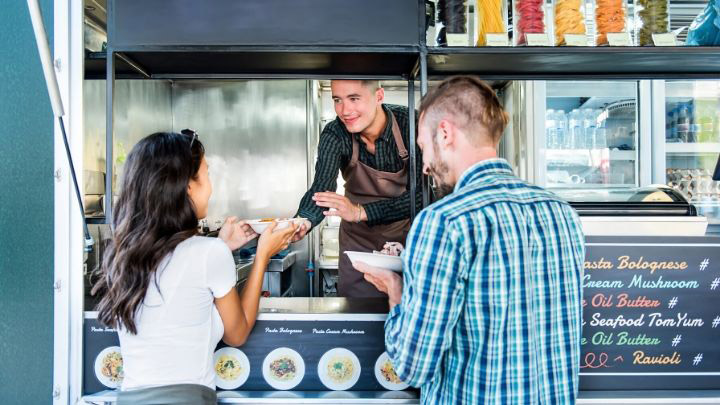 The food truck industry has been a part of the U.S. culture since the colonial days. When New York City was known as New Amsterdam, there were street vendors selling food items from pushcarts. It would lead to some of the first regulations that governed the quality of the products served to customers.
It wouldn't be until the 19th century when the Chuck Wagon approach to the food truck industry began. Charles Goodnight used his idea to help provide meals to the wagon trains and cattle drivers that worked in the Old West.
The first portable hot dog trailer, the original Wiener Mobile, came to U.S. streets in 1936. As the food truck industry encouraged ice cream trucks and roach coaches throughout the country, Raul Martinez had a revolutionary idea in 1974. He converted an old ice cream truck into the country's first taco food truck. Over the next 40 years, a blossoming industry would develop.
That growth trend has led to numerous success stories for families. Falafel Factory in Los Angeles is a husband-and-wife team that uses a third-generation family recipe. These businesses are a way to provide comfort, share cultures, and give places to those who want a taste of home.
Essential Food Truck Industry Statistics
#1. The food truck industry currently generates about $2 billion in revenues across the United States. Sales nationwide have tripled for the industry since 2014. (Food Truck Nation)
#2. The startup costs for a food truck are minimal, averaging between $50,000 to $60,000 in the United States. A top-performing business can generate up to $500,000 in revenues annually, sometimes even in its first year of operations. (Food Truck Nation).
#3. People in the 18-34 age demographic are the most likely to purchase a menu item from a food truck in the United States. They are closely followed by people in the 35-44 age demographic, together comprising 54% of total sales in the industry. (Statista)
#4. 47% of Millennials say that they have eaten a meal at a food truck at least once in their life. (Big Think)
#5. Approximately 90% of diners say that the quality of the food they received while dining at an industry location was either "good" or "excellent." About 80% use terms like "exciting," "unique," or "fun" when describing their experience at a food truck. (Mobile Cuisine)
#6. The average customer spends about $10 for lunch when visiting a food truck in their community. That amount rises to $14.99 when stopping by for dinner. (Mobile Cuisine)
#7. A majority of the food trucks operating in the largest U.S. cities are a minority-owned business. Chicago leads the way in this statistic, with about 80% of the operating locations falling into this classification. (Food Truck Nation)
#8. It requires the average food truck owner to complete or 40 different and separate government-mandated procedures to begin operations. Almost half of the startup costs in some community go to pay for the required licensing and permits. (Food Truck Nation)
#9. The total number of operating businesses in the United States that incorporate a food truck is close to 25,000, with about 30,000 employees supporting the economic activity at each location. (IBIS World)
#10. 53% of older diners are more likely to visit a food truck that's connected to a favorite restaurant when compared to younger generations. (Concession Nation)
#11. Over 30% of all mobile food revenue comes from catered events, making it a top trend for concession trailers and food trucks in the United States. (Concession Nation)
#12. About 200 food truck small businesses in the Washington, D.C., area have helped to produce nearly 1,000 full-time jobs in the community. Over 20 of these businesses turned their food truck into a brick-and-mortar restaurant. (DMVFTA)
#13. A food truck provides an efficient way to use public spaces for economic activities. A few on a single afternoon can supply over 100 people with a meal, reducing congestion on city streets because they come to the people instead of the other way around. (DMVFTA)
#14. Many cities require food trucks to go through twice as many health inspections each year when compared to traditional restaurants. A fire marshal must also verify the condition of the equipment, making it a highly regulated industry. (DMVFTA)
#15. More food trucks are found per capita in Orlando, FL, than any other location in the United States. There is one small business for every 37.7 people in the city. (Executive Auto Salon)
#16. In the aftermath of Hurricane Sandy, the food truck industry donated over 100,000 meals to people during the recovery process. (Executive Auto Salon)
#17. The two most popular items that food trucks serve in the United States are tacos and burgers. (Executive Auto Salon)
#18. Mondays are typically the busiest day for the food truck industry because the quality of the items served to provide comfort and reduce stress levels. (Sioux City Journal)
#19. June 24 is National Eat at a Food Truck Day, while the March has its National Mobile Food Vendor Day to celebrate. (Sioux City Journal)
#20. Mobile caterers in the United States generated over $960 million in revenues each year, but the food and drink sales of social caterers are over $8.6 billion. (Statista)
#21. The average hourly wage for a head chef or executive operating a food truck is $23.30 per hour. Owner-operators can make significantly more than that – or a lot less, depending on the situation and their geographic location. (Statista)
#22. Servers connected to food trucks or mobile catering services have an average hourly wage of $12 per hour in the United States. (Statista)
#23. Casual dining had the largest increase in 2016 for food trucks and mobile catering, generating a YOY surge of 14%. Fast-casual and quick-service options had a YOY 11% boost that year, while fine dining only saw a 3% increase. (Catersource)
#24. 55% of fast-casual restaurants with brick-and-mortar locations are spending time in the catering marketplace each year – which is a spot that also includes food trucks. (Catersource)
#25. 22% of food truck and mobile catering operators say that their greatest challenge in the future is having access to a skilled workforce. (Catersource)
#26. 78% of the customers that take advantage of food trucks and business catering place an order at least once per month. That figure rose seven percentage points in the last 12 months. (ezCater)
#27. Denver is the easiest city in the U.S. to start a food truck, as it requires only 10 procedures to obtain the permits and licenses needed for operations. (Food Truck Nation)
#28. Minneapolis doesn't allow food trucks to be within 100 feet from a traditional restaurant, 300 feet from a residential building, or 500 feet from festival or sports event. (Food Truck Nation)
#29. Six proximity restrictions in Phoenix, AZ, for food trucks at 2,215 feet of restrictions for local industry providers, whereas 9 similar restrictions in Raleigh, NC, only at 325 feet of restrictions to follow. (Food Truck Nation)
#30. Portland, OR, leads the country in the food truck industry for the cost of annual regulatory operating costs at just $5,410. The most expensive location is Boston, where operators pay almost $38,000 annually in fees. (Food Truck Nation)
#31. 34% of food truck operators say that their ownership of a mobile food business gives them an opportunity to regularly experiment with interesting and new menu items. (Forbes)
#32. 38% of the food trucks operating in the United States are immigrant-owed. 30% of them are owned by women, while 8% are LGBTQIA+-owned. (Forbes)
#33. 41% of food truck owners say that brand growth and acquisition is their primary business aspiration in the next 2-5 years. 22% said that growing revenue was a top priority, while 19% stated that they wanted to innovate within the industry. Only 11% wanted business diversification, while 7% said that their goal was to optimize operational efficiencies. (Forbes)
#34. 24% of food truck owners say that this business opportunity offers a way to stay ahead of changing trends in the hospitality space while still supporting consumer habits. (Forbes)
#35. 31% of industry operators say that launching a mobile food venture allows them to test their business concepts before investing in a more permanent location. (Forbes)
#36. The global mobile food vehicles market is forecast to expand at a 4.9% CAGR through 2026. (Business Wire)
#37. One of the most profitable items that food trucks are selling today is upscale beverages. Homemade lemonade, high-quality tea, and specialty ice cream products can retail at $6 or more, creating a profitable addition to any menu. (QSR Magazine)
#38. Food trucks are becoming available at private events more often, including graduation parties. If only 100 people attend an event, then the operator can earn up to 30% or more of their annual revenue from them during the year. (QSR Magazine)
#39. Outback Steakhouse and Olive Garden are already using food trucks as a way to test out new products for their restaurant locations. Some major marketers test new products through the industry without putting branding or logos on the trucks to test the waters on new ideas. (QSR Magazine)
#40. The average amount of time it takes for a new food truck business to acquire all of the permits it needs is 37 business days. (Food Truck Nation)
#41. The average food truck in the United States earns about $290,000 in revenues each year while paying about $150,000 in wages. (A City Discount)
Food Truck Industry Trends and Analysis
Even though more people are starting food truck businesses each year to create dilution in the industry, consumer demand continues to rise. The decade of the 2010s brought a four-fold increase in the number of sales while more than doubling the number of operational businesses.
The restaurant industry has taken notice of this consumer trend. One of the greatest threats to the food truck industry today is the use of established names and fast-casual restaurants creating pop-up spots and using their own vehicles to entice customers to purchase familiar versions of favorite products.
With its low cost of entry, a food truck is still a solid investment plan to consider for communities of almost any size. It is the perfect solution for a generation of adults who want a sustainable and healthy version of the choices they grew up with because of the food courts at local malls.
Originally posted 2022-10-14 23:23:09.