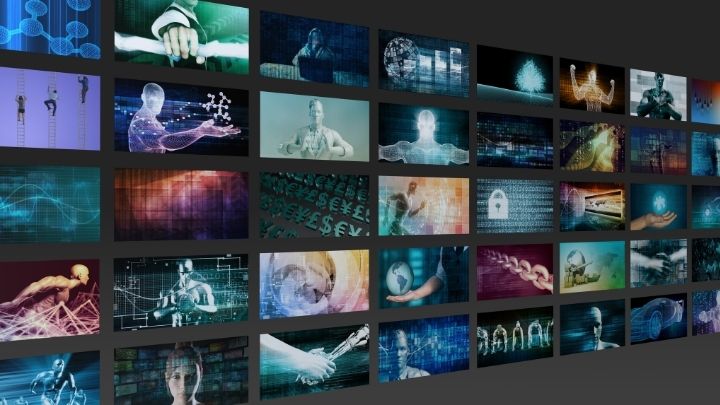 If you are looking for an easy way to earn extra money in your spare time, watching short videos on your mobile device might be the side hustle you are looking for. There are a lot of different ways to earn extra cash by watching online videos, and options range from rewards sites to survey sites, YouTube, and more.
Here are 30 of the easiest ways to earn money online just by watching tv and video content in your free time.
1. Make Money Completing Surveys about Videos with Opinion Outpost
Earning with Opinion Outpost is easy and a great way to turn your free time into money. Opinion Outpost is an online platform that lets you earn in different ways. You can complete surveys, watch videos, participate in product tests, and more.
You earn points for each action, such as completing online surveys or with any of their other activities, and those points can be converted into real money with your PayPal account or used to purchase other rewards.
2. Earn Money Tagging Netflix Content
This is one of the best ways to earn money by watching videos online. Because working for Netflix is a real job, you have the chance to earn good money. This is one of the main legitimate ways you can earn a lot of money just by watching videos.
The advantages of this job are that you get paid to watch tv shows and movies on Netflix, and you can work from anywhere in the world with an internet connection. The downside is that you do not get to choose what you watch, plus the job is in high demand, and it can be difficult to get.
3. Get Paid to Watch Cinema Movies with Marketforce
Like Netflix, this is a real job, and they are not always recruiting for the role. Marketforce is a market research company that provides an auditing service for cinema-related businesses and movie theatres.
This is like being a mystery shopper for cinemas, there are a lot of different assignments, but sometimes you will literally be paid to watch cinema movies. This is a good option if you need a stable and reliable job that pays directly to your bank account.
4. Earn Money Watching Videos with Swagbucks
Swagbucks is one of the most popular rewards sites that pays you in Swagbucks points (sb points) for completing simple tasks. Sb points can be redeemed for any of the many popular rewards available on the Swagbucks store, like online shopping promo codes, or converted to money with amazon gift cards or PayPal cash.
Swagbucks also offers a signup bonus for new members worth $10. However, this is only made available after you earn and spend $25 through their online store, and you need to do other activities than just watch videos.
5. Make Money by Sharing Shorted Video URLs
There are not many ways you can make money online that can be described as "free money." Shortening URLs with 7r6.com is about as close as it gets. The pro of this method is that you earn real cash, and there is a low minimum payout threshold. The con is that you will not earn much money at the start because how much you earn is based on your number of views.
In short, you shorten URLs from websites and generate traffic for those links. By sharing links from viral videos or such as popular YouTube videos and resharing them on community pages and discussion forums, you can earn real cash.
6. Earn Real Money Watching Videos on Inbox Dollars
Inbox dollars is a mobile app similar to Swagbucks. Unlike Swagbucks, Inbox dollars pay you in real money. However, Swagbucks generally offer a higher price per task. Inbox Dollars offer several ways you can earn money, so if you want to earn faster, you can answer surveys or do other tasks.
When earning by watching video content, you can watch video ads, movie trailers, and other content to earn money. The biggest downside to Inbox Dollars is that the minimum threshold for withdrawals is $30, so it can take a while to reach it.
7. Get Paid by Sharing Your Viewing Habits with Nielsen
Nielsen currently pays $50 per year to people who agree to have their computer and/or mobile activity tracked and monitored with Nielsen Computer and Mobile Panel. In addition to the yearly payment, each month, ten winners receive $1000 each. To be eligible, you need to sign up, download the relevant software, and agree to the terms and conditions.
Nielsen currently holds an A+ rating with the Better Business Bureau and is considered highly trusted. The great thing about earning money with Nielsen is that you get paid simply for doing your normal browsing and viewing activities.
8. Collect Points by Completing Actions on iRazoo
iRazoo is available as both an app and via their website. iRazoo is very similar to other rewards sites where users complete activities and are rewarded points which they can then redeem for rewards. iRazoo tv allows users to earn points for watching videos. If you want to earn extra points, you might consider completing some of their social media activities, playing online games, downloading certain apps from Google Play or Apple Store, and other tasks.
iRazoo points can be redeemed for visa gift cards and other credit card equivalents or other non-monetary rewards online. Be aware that a $5 gift card is 3000 points, and if you want cash, your initial withdrawal to PayPal can take over 100 days to clear.
9. Earn Money Watching Ads with Fusion Cash
Fusion cash earns money from advertising revenue while you do activities such as watching movies on their site. It is like a profit-sharing model for the ad revenue that they earn from your activity. The more you do, the more you earn. While it is very easy, the downside is that it can be slow to generate much money and their minimum payout is quite high at $25.
The bright side is that they offer a $5 welcome bonus to help you get started, plus you get paid in real money with no withdrawal fees, which is a big plus. So if you are just looking to make a little money on the side, this could be a good way.
10. Grab Yourself Some Extra Cash with GrabPoints
As the name suggests, GrabPoints rewards your efforts with points that can be redeemed for rewards. While sites that offer points are less popular than those that offer real cash, one advantage of GrabPoints is that rewards such as gift cards and PayPal are typically processed within 48 hours, making them one of the fastest platforms for redeeming your rewards. Unlike many platforms, GrabPoints lets you choose the channel you want to watch too so that you will see more content that interests you.
11. Get Paid for Providing Feedback with Kashkick
Kashkick is a service built around providing content creators of games, websites, apps, and videos with feedback from their users. Kashkick is available as an app to easily manage your account and see new tasks when they're available for completion. Kashkick is very similar to many other rewards sites in that it allows users to earn money from many other activities as well as watching videos.
12. Turn Spare Time into Money with Prize Rebel
Prize Rebel is not dissimilar to the rapidly growing and increasingly popular reward site model used by many services where you can earn money for watching videos. Users complete tasks available on the website, with each activity they complete earning a certain number of points.
Points can then be redeemed for rewards. With Prize Rebel, these rewards are typically gift cards. The main thing that sets Prize Rebel apart from similar sites is the very low threshold to begin withdrawals, with gift card redemptions starting at just $2.
13. Earn Extra Money Quickly with QuickRewards
Beginning with what makes QuickRewards different from other rewards sites is the fast withdrawal times. With a typical withdrawal time of just 72 hours, QuickRewards offers one of the fastest redemption turnarounds of any reward sites that enable you to earn money by watching videos online.
QuickRewards is also one of the longest-standing reward sites around, having been operating since 2002, and better yet, there's no minimum balance to begin withdrawing. If you want a way to turn spare time into some extra money that you can get access to quickly, QuickRewards is worth a look.
14. Get Some Extra Money with Gift Cards from InstaGC
InstaGC is a popular online site for earning extra money in your free time. As well as offering videos, you can earn money with videos, games, surveys, online shopping, and more. While most of this list has tried to focus on sites that offer real money, InstaGC is a gift card-based service. However, the site's redemption system is very powerful, offering over 330 different gift card options and a $1 minimum payout threshold.
15. Make Money in Your Spare Time with CashCrate
This site is a little different from the common reward sites that allow you to earn money from watching videos and other tasks online. While you can earn up to $50 a month in your spare time by completing various tasks from CashCrate, referrals are the best way to earn here.
Most sites offer referral programs, but often they are not particularly beneficial. With CashCrate, you can earn up to 20% of what your referrals do. That means that besides the $20-$50 you could bring in each month for yourself, you could build a network of referrals to net yourself some serious money.
16. Earn Cryptocurrency on Cointiply
Cointiply is a fairly typical rewards site on the surface. Like normal, you are rewarded for completing various tasks, from taking surveys to watching videos. Instead of redeeming Cointiply coins for rewards or cash, they are redeemed for cryptocurrency, which may be appealing for some users. Cryptocurrency can easily be converted into real cash, and Cointiply has easy instructions to do this. If you transfer it immediately, you will get your expected monetary value straight out of the cryptocurrency.
Cointiply also has some other interesting features. Once you have a balance of 35,000 coins, you will receive 5% interest on your balance, and you can supercharge your earnings by collecting between 10-25% of your referrals' earnings and claims. If you don't mind being paid in cryptocurrency, Cointiply is a great way to leverage your reward site earnings.
17. Earn Points Watching Your Favorite Content Online with HideoutTV
HideoutTV is very similar to what PerkTV offered before they closed in 2019. Similar to perk points, hideout users earn points that they can redeem for rewards. The concept of HideoutTV is quite simple. You watch videos that catch your interest just like you would on your favorite YouTube channel. You will see ads from time to time, just like on YouTube. Each time you watch an ad, you will earn points for viewing the ad. These points can then be redeemed for gift cards for popular stores and websites.
18. Get Paid for Your Attention Watching Ads with AdWallet
Getting paid to watch ads might sound a bit unusual, and it is, but that is exactly what AdWallet is all about. Companies spend a lot on their ads, and they want to know people are watching them and paying attention to them. Because of this, companies pay AdWallet to find viewers like you and to have you dedicate time (and attention) to watching their ads.
With AdWallet, you will earn between $0.50 and $3.00 per ad. The catch is that you only get ads from advertisers who want to target you based on your user profile, so sometimes you may have a lot of ads, and sometimes you will have none.
19. Earn Points Watching Videos with MyPoints
MyPoints is a platform that provides points for completing tasks. For Android devices, one of the available options is to watch videos. Watching videos is done through the Daily Scoop function, which is updated on a daily basis and allows you to watch videos from preselected genres.
The videos are not always available, so the reliability of this method can be limited. My Points rewards your actions with points that can be redeemed for rewards such as gift cards, and the minimum balance is just $3.
20. Be Paid to Help Grow Others YouTube Channels on Fiverr
There are a lot of services that have come and gone in this field, one of the largest, Paid2YouTube, was absorbed into GrabPoints which we have already discussed here. However, there are ways to earn money doing this without using other hosted services. All you need to do is to offer your service on sites like Fiverr. You can't charge much, but you can still earn more than most reward sites offer for the same job. The great thing is you can add interactions to your Fiverr gig like upvoting the video, commenting, and subscribing to the owner's channel.
21. Earn Money by Leveraging Product Review Videos
To do this, the steps are quite basic. Create an affiliate account with a product marketplace. Amazon is a good place to do this (though you will need to create at least a basic personal website to work with Amazon). Go onto your favorite video platform. This can be TikTok, Instagram, or Youtube. Find a channel or feed that has a lot of product review videos (the newer the video, the better). Find the product they recommend on Amazon and paste your affiliate link into the video comments. Each time someone buys the product with your link, you earn money.
22. Make Money by Creating a Blog with Affiliate Links
This is a version of guerrilla marketing that requires that you create your own website or blog and create an affiliate account with Amazon or another large marketplace. Next, find a YouTube channel in a niche that you understand, someone with excellent quality content. Create blog posts that are similar to their videos, and embed their video into your blog to augment your written content. Include affiliate marketing links to the recommended products. Like any website, when you start, this may be quite slow, but over time and with persistence and effort, you should find traffic increase, and your affiliate revenue begin to climb.
23. Be Paid to Review Films
For a long time, "beta readers" have been growing in popularity for authors, with some authors paying readers to read their books and provide valuable feedback. The same is true for films and small studios.
The difficulty is in proving your quality to potential clients, and there are no sites that offer this job currently. The best way to start is to create a blog or social media channel where you provide excellent reviews and critiques of brand new content. Then, create a website/page where you sell your service as a beta viewer. Starting can be difficult, but once you build the momentum, you can begin to earn real money by charging others for your opinion.
24. Sell Your Services as a Freelancer Converting Vlog Content to Blog Posts
This is an extremely simple and straightforward way to earn money from watching videos, and better yet, if you are good at it, you can earn as much or as little money as you like. You will need to create an account with a freelancing service like Fiverr, Freelancer, or Upwork.
With Fiverr, you can create a gig and simply wait for clients to come to you, while for other platforms, you will need to search, sort, and apply for jobs. To begin with, you will have to price yourself competitively to attract clients, but once you have a lot of strong reviews, you can charge based on the amount of time and effort it takes you to watch their videos and write a quality blog based on the content.
25. Freelance as a Video Description Writer
If you have a way with words and can write well, there is always work for creatives. A good video description for film festivals, YouTube, and other advertising locations is critical to the success of a film. You can create an ad on Fiverr or search for jobs on other freelancing platforms to write quality video descriptions. This job does not pay well at the start, but once you have a good relationship with a client, your proven track record will allow you to increase your rate.
26. Turn Product Review Videos into an Income Stream
Getting started at writing product reviews can be challenging, and there are several ways to monetize this. To begin with, decide if you are selling your product reviews to other websites/magazines, looking for work on freelancing sites, or creating your own blog.
Once you know who you are writing for when you need to review a product, you can simply find a good quality video review for the same product from a trusted source. You can then paraphrase their video content into a quality written version and submit this to your employer or post it on your site. Ideally, you will also review the product yourself, but watching the video will make the job much quicker and easier. This method will be faster and easier to monetize when writing for others and paying directly for your content.
27. Make Money Writing Video Subtitles
If you are a decently fast typist and enjoy watching videos and movies, this is a good way to earn some extra income. You can work as often or as little as you like, and you get to set your own rate. Advertising as a freelancer is the most effective way to find work, but contacting small film studios and local filmographers can work.
Essentially you are just watching the video content and writing subtitles based on the video content. The more skilled you become, the more you can charge. You may need to watch videos at a slightly slower than normal speed to make sure you can write fast enough to keep up and still enjoy watching the video.
28. Earn Money from Translating Subtitles
This is a very difficult field to break into but can be highly rewarding if successful. The best way is to create a Fiverr gig or look for work on freelancer or Upwork. You may need to look for jobs as a content localizer, who takes content already translated into your language by a non-native speaker and converts it to a fully native language.
Otherwise, if you are bilingual, you may be able to find videos in your second language and write subtitles in your native language. Both of these options will let you enjoy watching the content while earning a real income.
29. Make Money on YouTube with Creative Commons
There are a few ways that Creative Commons content can make money on YouTube, here's the simplest way. Find Creative Commons licensed videos that are high quality/contain good content but are poorly rated and have low views. Find new stock photos and repost the content on your own channel with an improved video title and description.
As your channel grows in popularity, you will begin to unlock YouTube's monetization rights. Plus, you can sometimes get 3rd party video sponsors, and you can earn thousands of dollars without ever creating a single video yourself.
30. Earn Money with Social Media Reaction Videos
The number of ways to earn money sharing videos on social media is almost limitless. If you have a large following, you can simply sell yourself as an influencer on Fiverr or Freelancer. This can be charged per share, per video, per click, per interaction, or anything in between. But, because social media is about engagement, you may find the best way to make money is to film your reactions to your favorite YouTube channels or other video content online.
On YouTube short, Instagram, and especially TikTok, reaction videos are currently one of the most popular genres, and all you need to do is film yourself watching videos (especially if you have an animated or humorous reaction).
Conclusion
As you can see, getting paid for watching video content is a real possibility. There are options available, from earning a little extra on the side each month to replacing your job entirely. The opportunities that pay the most are often the hardest to get, or they require more effort to start. Either way, there are many options available for a person with a creative mind to earn as much as they need from watching video content online.
Originally posted 2022-10-19 17:26:16.