The world of fashion needs a major makeover.
According to The World Bank, the fashion industry makes up 10% of our world's annual carbon emissions. In addition, up to 21 billion pounds of clothing is dumped in landfills annually. Things need to change.
Thankfully, many luxury brands are fighting our climate crisis by becoming more sustainable. These 20 sustainable luxury brands are setting the industry standard for eco-friendly fashion.
Stella McCartney
Stella McCartney is considered a pioneer in ethical fashion, and her brand has been cruelty-free since day one. It has never used fur, feathers, or leather in any of its products.
The brand is always trying new things and introducing new initiatives to push the envelope of sustainable luxury fashion. All designs use organic cotton, recycled cashmere, and recycled polyester. In addition, Stella McCartney publishes an Eco Impact Report about the brand's environmental impact and ways to improve production.
It doesn't hurt that Stella's immaculately tailored designs are fashion-forward and feminine. Stella McCartney's 2021 fall collection was her most sustainable yet, using 80% eco-conscious material. The brand has also sustainably collaborated with brands such as adidas and Disney.
Reformation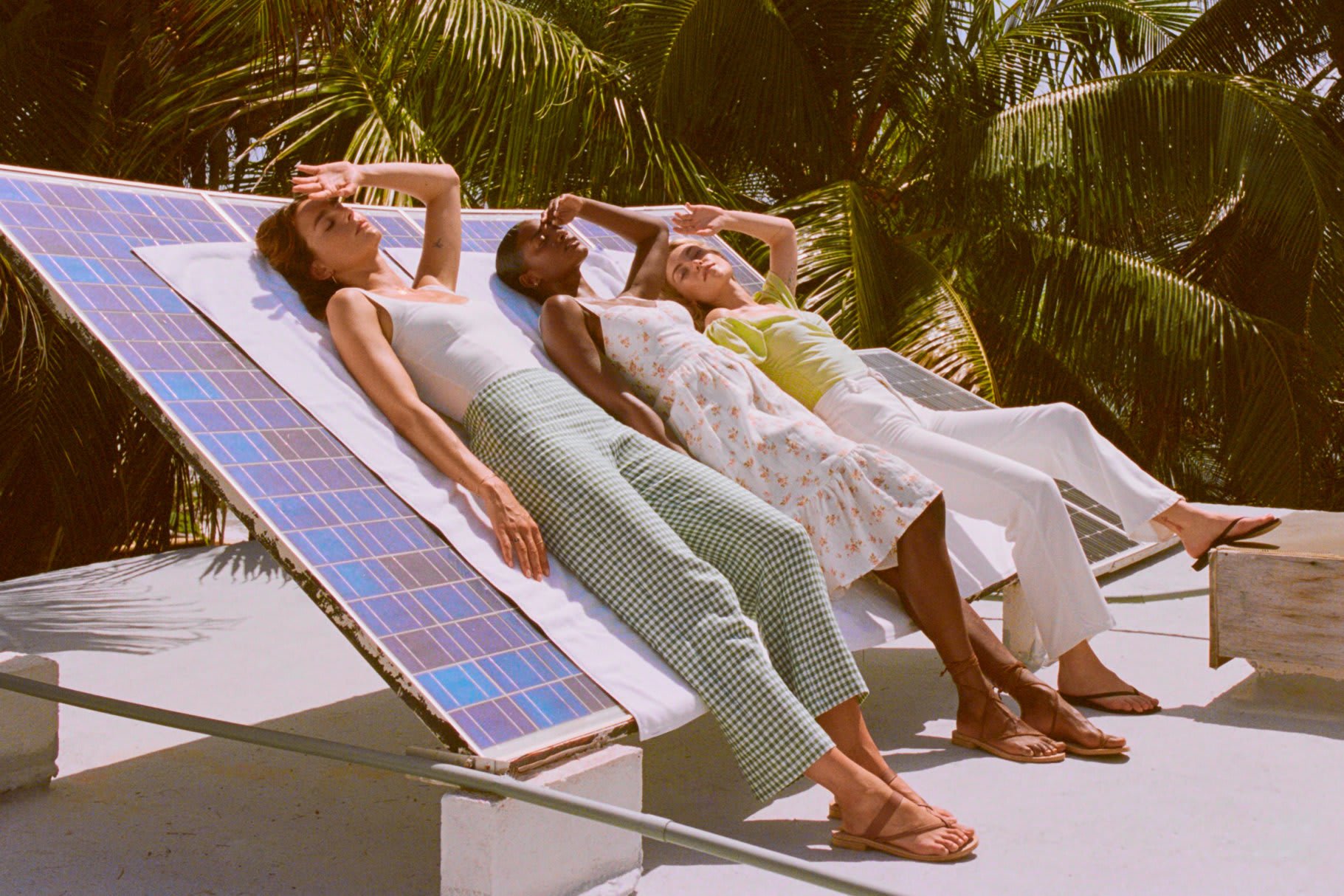 Reformation started selling vintage clothing in 2009 and quickly began producing its own products with a focus on sustainability. The brand uses deadstock fabric and low-impact materials to create its signature elegant clothing.
Every stage of Reformation's clothing production keeps sustainability and fair working conditions in mind. Their move towards a circular production system involves recycling factory scraps and donated clothes to make new Reformation pieces like denim, shoes, and activewear.
The brand is Climate Neutral certified and on its way to being Climate Positive by 2025. Also, the Reformation website has a neat RefScale feature that shares how much carbon and water were used in making each piece.
Maggie Marilyn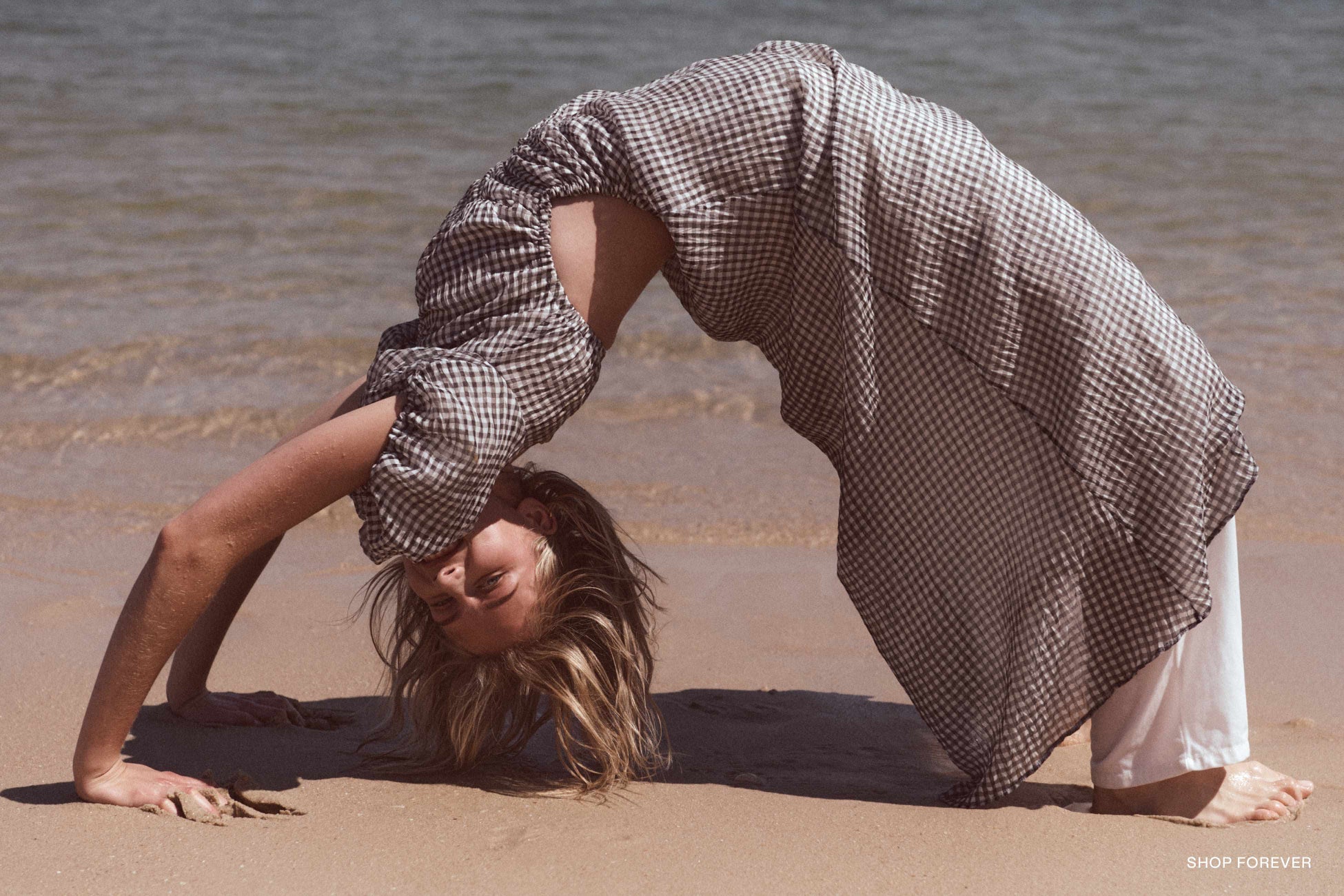 Maggie Marilyn is a stand-out in the world of sustainable fashion because it is constantly improving. The brand's sustainability efforts aren't just for publicity. It publishes an Impact Report and Sustainability Strategy every year for full transparency.
Maggie Marilyn is carbon-positive. It received its B Corp Certification in July 2022, meaning customers know that their purchases meet high social and environmental standards.
From organic cotton to OEKO-TEX® certified virgin material, Maggie Marilyn cares about how it makes its clothing. It uses only the highest quality fabrics and does all its manufacturing in the designer's home country of New Zealand.
CAALO
CAALO is a luxury outerwear brand that sells garments built to last. Their coats and jackets are non-gendered and intended to be worn for years to avoid filling up landfills with even more fashion industry waste.
CAALO only partners with sustainable New York factories to ensure all outerwear is ethically made. Manufacturing with local factories also helps the brand reduce its carbon footprint by cutting on transportation.
CAALO's outerwear is unique. Customers can wear each piece in several different ways. Some coats are even reversible, essentially giving you two pieces in one! All CAALO fabrics are recycled and sourced from Japan, Korea, and Italy.
Brother Vellies
Brother Vellies is a footwear and accessory brand that incorporates sustainability into every item it produces. The brand, founded by Aurora James in 2013, focuses on mindful production and small-batch products.
Brother Vellies sources artisanal talent from across the globe to preserve traditional techniques and practices. The brand proudly prices its products so that artisans receive a fair wage, and they never run sales.
The brand has used handmade techniques and sustainable materials since the beginning. For example, recycled tires transform into shoe soles, leather is vegetable-tanned, and natural pigments dye fabric and feathers.
Damson Madder
Sustainable fashion is often associated with muted neutral colors and minimalist design. Damson Madder aims to change those preconceived notions. The UK brand's knitwear and accessories are fun, funky, and full of maximalist color.
Damson Madder's pieces use recycled and repurposed fabrics. For example, each beanie uses thread from three recycled water bottles! The brand is all about circular design and constantly works to improve its recycling and reuse efforts.
Damson Madder also cares about the well-being of its factory employees. All factories in the supply chain must meet a strict Code of Conduct to ensure workers earn a living wage and are fairly treated. The brand partners with NGOs to do regular factory checks, too.
Re/Done
Re/Done has been redefining denim since it came onto the scene in 2014. The brand is well-known for upcycling used Levi's into unique bespoke pieces. Re/Done recently branched out to footwear and ready-to-wear tops, too.
The circular production model of Re/Done works perfectly with its aim to revitalize heritage brands like Hanes and Levi's. These heritage brand pieces are made and distributed in Re/Done's Los Angeles factory, cutting down on CO2 produced by transportation.
Re/Done has diverted over 220,000 pieces of clothing from landfills by upcycling and reusing fabrics from vintage pieces. Natural dyes, recycled material, and water-smart wash processes have made Re/Done's denim a fashion favorite in LA and beyond.
Another Tomorrow
Another Tomorrow crafts sleek womenswear with a sustainable edge. It is a B Certified company and is Carbon Neutral. Another Tomorrow focuses on producing quality jackets, pants, and more using a circular production model.
The brand focuses on natural fibers and recycled fabrics like cashmere, linen, and Tencel™. Another Tomorrow is outspokenly transparent, even outlining materials it will never use in its clothing, like silk and conventional cotton. Each piece in Another Tomorrow's online shop has sustainability information detailing its carbon footprint, traceability, and more.
Another Tomorrow operates under a "do no harm" policy. This means it does everything in its power to produce high-quality, long-lasting products that don't negatively affect the welfare of animals, humans, and the environment.
Sézane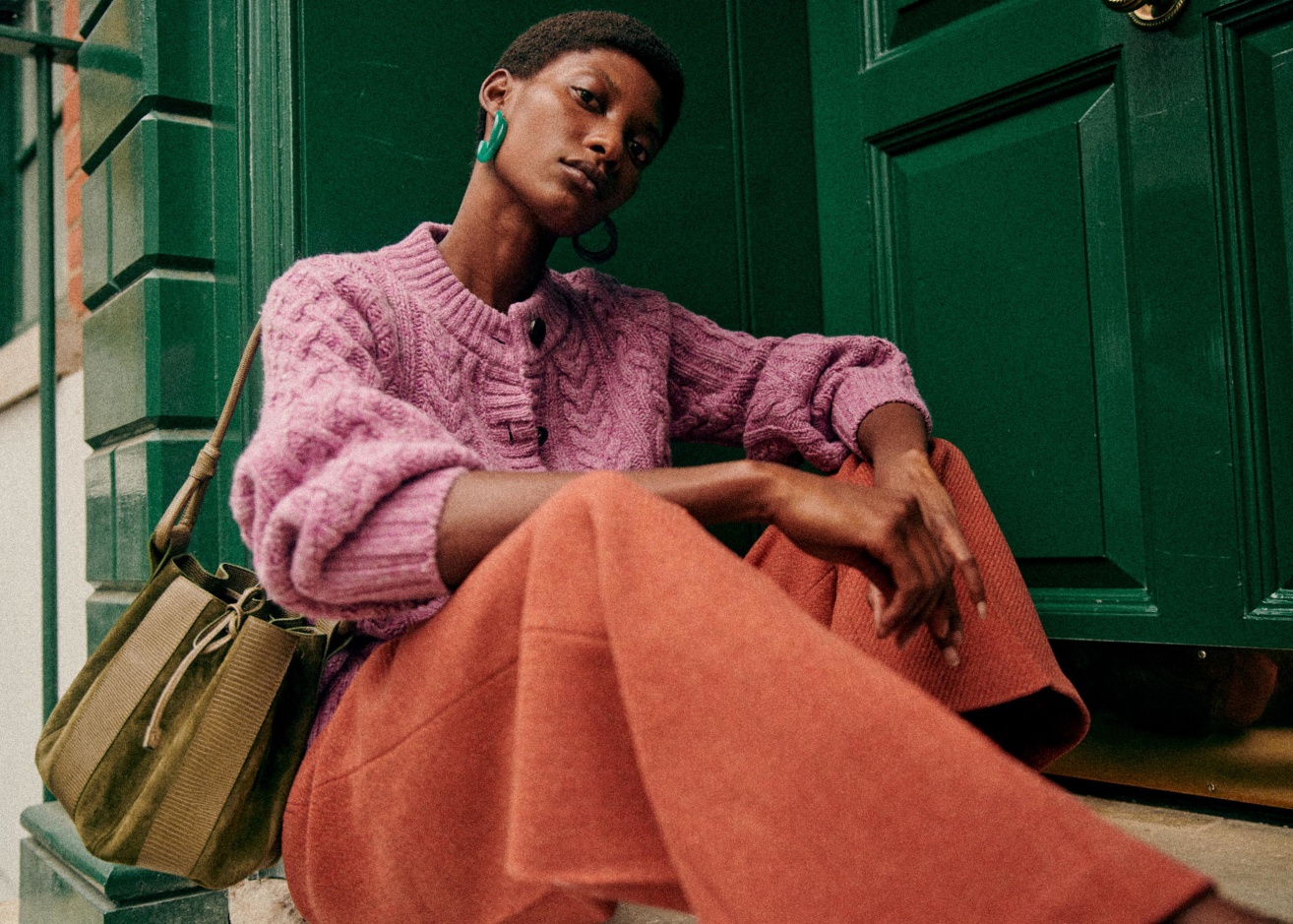 Like CAALO, French luxury brand Sézane creates pieces that customers can wear forever. It makes small quantities of luxurious knitwear, outerwear, and accessories in ethically run factories.
The brand recently earned its B Corp certification. About 75% of Sézane's fabrics are eco-friendly, and they aim to increase that by another 10% in 2022. On top of that, Sézane uses recycled packaging and powers all locations with 100% renewable energy.
Sézane stands out from the crowd because of its philanthropic program, Demain. On the 21st of each month, the brand donates 10% of its daily sales to non-profit organizations. Since its creation in 2018, Sézane has donated four million euros!
Vivienne Westwood
"Buy less, choose well, make it last" is Vivienne Westwood's motto, and it's reflected in her brand. The label has steadily increased sustainability efforts over the last few years.
Vivienne Westwood sources materials from suppliers that meet the brand's sustainability and traceability standards. Most fabrics are low-impact, like recycled cotton and ethically sourced silk. In addition, the brand has adopted the "less is more" mentality by producing fewer products over the last three years.
Vivienne Westwood uses her fashion shows and clothing as an opportunity for activism. She started her own Climate Revolution movement in 2012 to take action against big businesses and politicians actively contributing to the climate crisis. She's one of the most outspoken activists in the fashion world, and we can't wait to see what she does next.
Santos
Mónica Santos Gil quit her corporate job in 2020, founded her sustainable brand Santos by Mónica, and hasn't looked back. Santos creates fun, versatile handbags and womenswear with a classic 90s feel.
Santos makes all its pieces by hand and uses innovative natural and vegan materials. The brand offers chic handbags made of partially biodegradable cactus leather, which uses much less water to produce than traditional leather. It's also just as durable. Also, Santos recently introduced a Eucalyptus Lyocell and cotton blend fabric into its ready-to-wear line.
All Santos pieces are made to order in small batches to reduce production waste. Everything is made in the brand's Brooklyn and Midtown studios in New York City. Santos plants one tree for every handbag sold in partnership with One Tree Planted.
Mara Hoffman
Mara Hoffman is a designer known for her powerful statement pieces with a bohemian flair. Her self-named brand produces sustainably made womenswear pieces focused on mindful consumption.
All of Mara Hoffman's products have an element of sustainability. For example, the brand's swimwear uses recycled nylon and polyester, and other clothing items mainly use linen, hemp, and organic cotton.
Mara Hoffman wants her brand to strive for more sustainable practices as it evolves. The brand recently launched a Full Circle Marketplace where customers can resell old items and buy pre-owned pieces. Extensive eco-friendly care instructions are also available on the website so customers can get the most out of their purchases.
Eileen Fisher
Eileen Fisher has been around since 1984 and began focusing on eco-friendly practices in 2009. The brand's Renew recycling program was one of the earliest in the luxury brand sphere. Customers repair their old Eileen Fisher pieces through the program and resell them at a discount.
The womenswear brand currently focuses on creating a circular design system that reduces waste and reuses resources. Many of the fabrics are bluesign® certified, meaning they are manufactured in factories that meet high environmental standards and don't use hazardous chemicals.
In 2018, Eileen Fisher also launched Waste No More, a sustainable design studio that creates accessories from recycled fabric and deadstock products. In addition, resident artist Sigi Ahl makes art pieces featuring factory scraps and damaged fabric as a way to give clothing waste a new life.
St. Roche
St. Roche is an LA-based brand that combines classic femininity with a modern approach to fashion. Launched in 2014, the brand fights fast-fashion trends by producing seasonless items built to last.
St. Roche sources its materials from India, Peru, and Los Angeles and has a shorter supply chain than most large-scale brands. Handiwork is a significant element in the brand's design. The brand ensures the women who do the embroidery, spinning, and sewing for its products receive fair pay.
Low-impact fabrics like linen, alpaca wool, and organic cotton elevate St. Roche's knitwear to a new level of luxury. The brand's silhouettes are irresistibly chic, and fans feel better in more ways than one when wearing these pieces.
Aliya Wanek
Aliya Wanek is a Black-owned slow fashion brand based in the Bay Area of California. Founder and designer Aliya Wanek named the brand after herself and is directly involved with garment production. She hand-sews the pieces herself!
Aliya only works with natural fibers like organic cotton and linen. As a result, her clothes are comfy, elegant, and effortlessly chic. The brand also aims to increase the visibility of women of color in luxury fashion because they are often under-represented.
Aliya Wanek produces clothing in small batches at two small factories in the Bay Area. By localizing production, the brand does an excellent job of reducing its environmental impact and shortening its supply chain.
Christy Dawn
Christy Dawn is all about sustainable comfort. Its elegant, super-soft loungewear gives customers the same effortless look of fast fashion athleisure brands without a considerable carbon footprint.
The brand takes sustainability initiatives one step further by advocating for regenerative practices. This means using deadstock fabrics for Christy Dawn dresses, fostering long-term partnerships with sustainable factories, and supporting small farmers that produce the brand's fibers.
The brand has released two Farm-to-Closet collections. These 100% sustainable collections use organic cotton harvested from a single-origin farm in Erode, India. Each slow fashion piece purchased supports regenerative farming and local artisans.
Gabriela Hearst
Gabriela Hearst launched her first collection in 2015 and has been going strong ever since. Her brand focuses on sustainability and traditional processes, like hand knitting. In addition, the brand partners with the non-profit Manos del Uruguay to produce its handmade knitwear.
Gabriela Hearst's limited-quantity pieces are luxurious, feminine, and have a hint of the avant-garde. The designer is constantly finding ways to incorporate recycled cashmere and deadstock fabrics into her pieces. She is on track to meet her brand's goal of eliminating virgin materials and using 80% deadstock fabric in future collections.
Gabriela Hearst takes sustainability one step further with its fashion shows and events. During Paris Fashion Week in 2020, the brand became the first to stage a carbon-neutral show. In addition, set designers often use recycled and upcycled materials for runway shows.
Stine Goya
Designer Stine Goya's self-named brand is full of eclectic prints and stunning silhouettes. The Copenhagen-based line aims to improve its social and environmental impact by focusing on three pillars: product, planet, and people.
The brand publishes an annual Responsibility Report to document goals and milestones in its sustainability efforts. The target is to use 90% recycled and sustainable materials by 2025. Stine Goya seems to be on track with its use of recycled wool, cotton, and polyester in most of its products.
Stine Goya operates in line with the UN's Sustainable Development Goal 13, which is to "take urgent action to combat climate change." Goya acknowledges that her brand is far from perfect. The brand is transparent about sustainable successes and failures, which is refreshing to see in the fashion world.
Matt & Nat
Shoes are notoriously tricky to produce sustainably, but accessory brand Matt & Nat is here to change that. Matt & Nat, whose name is a play on "Mat(t)erial and Nature," produces beautifully crafted vegan bags and shoes out of recycled materials.
Matt & Nat focuses on using recycled plastic material and biodegradable fabrics in their shoes. For example, polyurethane and PVB (polyvinyl butyral) is used in place of PVC, which is notorious for its toxic chemical additives. In addition, the recent Purity bag collection uses recycled plastic bottles to create all interior linings.
Matt & Nat have branched out to vegan outerwear, knitwear, and menswear. Its cozy coats and luxurious sweaters are made with organic cotton and recycled polyester. The brand is on track to hit its target of becoming 100% sustainable by 2023.
Gucci
It may be a surprise to see Gucci on this list, but the brand is an early big-name adopter of sustainable practices in the luxury fashion world. It still has a long way to go in reaching its sustainability goals, but its efforts have made a difference.
The "Gucci Off The Grid" line produces luggage, outerwear, and accessories made from recycled and sustainably sourced materials like regenerated nylon. Gucci has stopped using fur and angora fiber, although it still uses leather and exotic materials like crocodile skin.
Despite some drawbacks regarding sustainable materials, Gucci has pledged to reduce its carbon footprint by reducing greenhouse gas emissions in factory operations. Also, a recent partnership with CanopyStyle helps eliminate deforestation from its supply chain.
Conclusion
And that's a wrap!
The fashion industry is massive and growing, and the demand for sustainable products is growing along with it. That means the opportunity to make a difference by choosing sustainable luxury fashion brands is also growing.
Just pick one (or more) brands from this list that speak to your values, and you'll be making an impact on our world without sacrificing style or quality.
We hope you enjoyed this list of sustainable and luxury fashion brands. For us, it was a fun way to explore the intersection of fashion and sustainability—and to learn about some companies we might not have known about before.
Thanks for reading, and happy shopping!
Originally posted 2022-10-15 22:30:47.