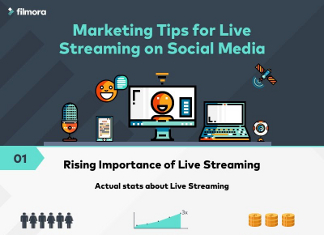 Live streaming through social media is becoming an important marketing tool. 4 out 5 consumers say that they would rather watch live videos than read posts from a brand they follow. Live videos are watched three times longer than regular videos.
Here's how you can begin to benefit from this trend.
1) Get yourself on Facebook right now.
Facebook might be changing newsfeeds to emphasize family and friends, but brands will still have consumer access to wanted content. 45% of the live streaming marketing share goes through Facebook. It is becoming the dominant platform for this tool. You've got to be there… period.
2) Tailor your message.
Live streaming on social media is one of the best ways to reach individuals who identify with Generation X or being a Millennial. Tailor your brand's message to reach these demographics on social media to optimize the potential of this platform.
3) Be willing to go international.
In April 2017, the United States was dropped to second place in terms of total users on Facebook. India now has more people with profiles on Facebook. Brazil and Indonesia have more than 100 million users on Facebook as well. Live streaming can reach all of these people, so think about ways you can take your brand globally.
4) Look to provide high value options.
Although college graduates tend to lead in social media demographics, income levels do not always match the educational level. The highest demographic saturation levels, based on income, are in the under $30,000 per year range. All demographics are looking for strong value promises, but the under-30k has spending limits that must also be considered.
5) Women are more engaged than men.
From a live-streaming standpoint, women are 8 percentage points more likely to be watching a video, compared to men, on Facebook. On Instagram, the gap is 12 percentage points between the genders. Take this into consideration as you begin to produce content for your live streams.
6) YouTube is the exception to the rule.
Live streaming on YouTube is almost equal to Facebook Live, but men use this platform on an almost 2-to-1 ratio compared to me.

Live streaming provides an exciting option for brands to begin developing more relationships with their consumers. Use this information to begin exploring it as an option today.
Originally posted 2022-10-08 02:19:01.